10 Things to Buy a College Graduate
10 Things to Buy a College Graduate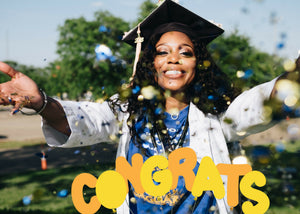 As their final spring season ends, most college students are exhilarated with the thought of closing out their final semester after 16 or so years of education and learning.  This exhilaration is also tipped with trepidation and anticipation, as it's also their final push into real adulthood.  For many college graduates, they're about to experience rent, bills, taxes, full-time jobs, and the weighty responsibilities that come with it.  They'll be ready for any advice and help from the adults in their lives, and to help you, here is a list of 10 practical, yet fun gifts to help them with this transition.
Amazon Echo
They'll be finding their own new space, learning to live on their own and pay rent, and that means keeping the place clean, cooking when their hungry, and playing music on the stereo when they feel like it.  Amazon Echo can not only function as a stereo, but she can order items from Amazon, tell the time, function as an alarm, and a multitude of other tasks to help make their days just a bit easier.
Financial Literacy Guide
This gift is probably not one to be found as the most exciting gift ever, but it's a sound investment for your graduate in the bigger picture.  Help them learn how to handle and manage their financial life as they start to face their own financial responsibilities. Financial Literacy for Millennials is targeted for ages 15-30 and helps with economic and financial planning on a personal level.
Keurig Coffee Maker
Starbucks can be expensive, but coffee really does make it easier to get through the day! A handy, single cup Keurig Coffee Maker  will be just the brew they need when they start their first real 9-5.
Restaurant Gift Cards
This one might seem a little bit vague, but as they start to get on their feet and adjust to life without a cafeteria in their college dorm, food becomes a pretty precious commodity for new grads.  While they might be skimping and saving and eating in to save money, they'll be ever appreciate to find some restaurant gift cards for a brief treat. Save time and send the one of our graduation cards and include a gift-card at checkout.  
A Watch
A nice watch is somewhat of a hallmark of adulthood.  It signifies that you have places to be and schedules to follow. Both men's watches and women's watches can pull together a professional style of dress with a touch of class, sure to impress interviewers and employers.
Diploma Frame
The last four years (really, more) have been dedicated to earning a degree.  Hours of studying, days of classes, plenty of all-nighters, reviewing for finals, writing term papers- your graduate has put in so much work to reach this point.  It's more than just a piece of paper, so it deserves a quality frame to be placed on a wall and proudly displayed for all to see.
Simple Cookbook
Time, money, and experience with cooking are all pretty heavy deterrents when it comes to learning to cook and care for one's self.  This Super Easy 5-Ingredient Cookbook looks to make cooking as simple as possible for even the most inexperienced of cooks.
Gym Membership
Encourage their healthy habits and lifestyle by gifting a month or two subscription to a nearby gym.  With all of life's stressors, it's crucial for young adults to be wary of finding balance between work and their physical and mental health. 
Audible Subscription
Reading is one of the habits of highly successful individuals, and a greatly underrated activity.  Sure, we don't seem to have too much time for reading these days, but the great thing about Audible is that it eliminates the need to sit down and read.  Whether they're commuting to work, jogging, or doing laundry, a good book can be a simple click away.
Household Toolkit
A household toolkit is one of those items we don't realize we need to buy until the moment we need it as soon as possible.  Whether it's pictures to hang or faucets to tighten, every grad is going to need to have the independence to fix minor problems themselves.  This one comes with all the basic necessities.
---