3 Ideas for a Cozy Winter Staycation
3 Ideas for a Cozy Winter Staycation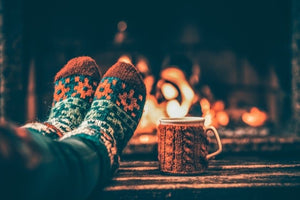 What do you do when COVID-19 continues to cancel your travel plans? Swap them out for a relaxing and rejuvenating staycation! You don't have to leave your home to book the getaway you need. With some creativity and preparation, you can have a vacation from the comfort and familiarity of your own home. Plus, you get to save money on gas and lodging. Staycations are a great way to take care of yourself and take the breaks you need while keeping yourself safe and healthy. Looking for the perfect weekend plans to get you started? Check out these fantastic ideas for a cozy winter staycation.
Book a (Home) Spa Day
If a self-care day is what you need, you can spend your staycation creating a luxurious home spa. Book some alone time, and spend your day soaking in a warm bath, applying a face mask, and enjoying the scent of your favorite candles. Put on some music, read a book, or even watch your favorite shows as you lounge around and enjoy yourself. Make sure you have a warm, fluffy robe on hand, as well as some fun products like bath bombs, lotion bars, and essential oils.
Camp It Out
Did you have to cancel plans for an exciting outdoor vacation? Camping, hiking, and exploring national parks are incredible ways to make memories with friends and family. While many destinations will have to wait, you can still get your fill of the fresh air and beauty of nature without going far. Book a backyard campsite by pitching a tent or parking your RV right at home. Just make sure you know how to keep your RV pipes from freezing or protect your tent from the winter snow and wind. Set up a bonfire to keep out the chill, and huddle close with your family as you roast marshmallows and enjoy each other's company. Be sure to bring along plenty of cozy blankets and everything you need to make a warm cup of hot chocolate.
Treat Yourself To a Marathon
Who doesn't love the occasional lazy day? If your ideal vacation includes not doing much of anything, a movie marathon is one of the best ideas for a cozy winter staycation. Stock up on your favorite drinks and snacks, hunker down in the living room, and spend your day relaxing in front of your media of choice. It's the perfect opportunity to catch up on all the movie releases you've missed or binge-watch the latest shows. Alternatively, curl up and rewatch your old favorites. You don't have to glue yourself to the TV, either. Spend your lazy staycation with a good book or gather around the table for a family game night. As long as you get to relax and enjoy yourself, you can call the experience a success.