A Year of Fulfillment: 10 of the Best Ways to Pay it Forward
A Year of Fulfillment: 10 of the Best Ways to Pay it Forward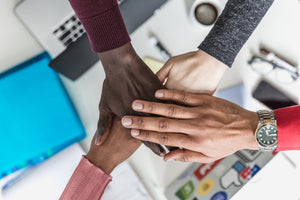 There's something so lovely about the new year. So many people work on creating an environment and atmosphere of improvement, self-love, and generosity. If you want to carry on the holiday vibes throughout 2020, then introduce some of these best ways to pay it forward into your life. From simply buying someone coffee to consistently volunteering at a shelter, adding in some of these ideas will create a fulfilling and generous new decade.
Pay for Someone's Coffee or Meal
This is one of the simplest ways to pay it forward. Simply pay for the coffee or meal of someone behind you in line. All it takes is a couple of bucks out of your pocket to bring joy to someone else's day.
Join a Cleanup Day
Help out your community this year by consistently joining cleanup days. You can join one that your community holds, or you can set one up for your neighborhood or school. For just a few hours of the day, you can do your part to preserve mother nature.
Donate Clothes or Home Goods
Donating is another wonderful way to pay it forward. Especially if you donate consistently, you'll help out those in need and fuel your fulfillment. Find a charity worthy of your donation and donate items to show you truly support and admire their cause.
Run for a Cause
Whether you're in good shape already or want to get in a healthier mindset this new year, sign up for a run for a cause. Knowing that you're walking and running for something important makes it that much easier to get out and exercise. They're also tons of fun, with various themes—from color runs to midnight runs. You'll help your body and support a worthy cause.
Send a Card
Mail it, slip it under a door, leave it on a desk—no matter what way you deliver the card, you'll add a bit of joy to someone else's day. Simply pick out a card of your choosing, leave an encouraging note, and give it to loved ones or those who've seemed a bit lonely lately. A handwritten card is a powerful tool in changing someone's day around.
Volunteer at a Shelter
Volunteering is a lot of people's go-to for generous acts. This year try to make volunteering as consistent as donating. There are tons of organizations to support, from animals to homeless shelters. The more you make it a routine, the more generosity will become second nature in the new decade.
Share Kind Words Daily
This is an important one. Kind words are what make tough days bearable. You never really know what other people are going through, so spreading some kind words can totally alter someone's day in a good way. Try to add-in kind phrases that push further than appearances—affirmations about how good their work is and how caring their heart is can make a world of difference.
By introducing just a few of these pay it forward activities into your lifestyle, you'll notice that your new year seems a whole lot more fulfilling. Help out others when you can, spread joy, and start the decade off on the right foot!