Greeting Card Reminder Bot
Greeting Card Reminder Bot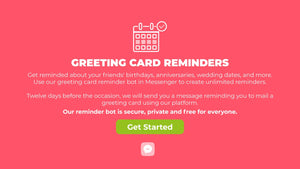 Get reminded about your friends' birthdays, anniversaries, wedding dates, and more. Use our greeting card reminder bot in Facebook Messenger to create unlimited reminders.
Twelve days before the occasion, we will send you a message reminding you to mail a greeting card using our platform.
Our reminder bot is secure, private and free for everyone.
Try it now.  Click here to contact us on Facebook Messenger.  When you open our inbox, simply type, "remind me" to get started.