How to Be a Good Parent During the Divorce Process
How to Be a Good Parent During the Divorce Process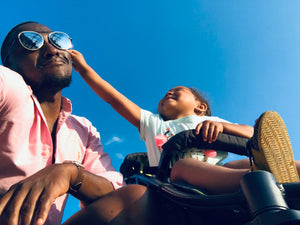 While a divorce is challenging for one or both spouses, it's especially challenging for children. They don't understand what's happening, and you don't want to let your children begin to think the divorce is their fault. Of course, parenting through a divorce is challenging and the level of difficulty can vary depending on your kids' ages. However, we do have some universal tips that can help you. If you'd like to learn how to be a good parent during the divorce process, we put together a list of helpful tips below.
Never talk to your children about your spouse
Your child shouldn't be your messenger, regardless of their age. Your divorce is between you, your spouse, and the attorneys, and your children should never be directly involved. We understand that you're probably angry during a divorce, but you have to remember that you're talking about their mom or dad as well. No child should ever have to listen to their parents argue, or listen to one of their parents bash the other parent behind their back.
Emphasize that the divorce isn't their fault and spend time with them
Some children, especially if they're older, can blame themselves for the divorce. As the parent you can calm their feelings by ensuring them that you're not separating because of them. It's best to keep your children's minds busy during this process, and one of the best things you can do is simply spend time with them. Your kids need you now more than ever before. However, if you have teenagers, they may not want to spend time with you, and you should also respect their personal space. They're likely processing and grieving in their own way, and you shouldn't make them rush that process.
Encourage them to share their feelings and answer their questions
You may have a child that likes to stonewall, that is, ignore reality and say, "I'm fine." But in all reality, they probably need their feelings heard, and you should encourage them to share. Just prepare yourself because the feeling could either be positive or negative and you need to support them either way. It's likely that many of their feelings are going to be grounded in the several questions they have. For example, most kids are wondering if they'll stay in the same school and where they're going to live. Just know that it's okay to not have all the answers.
It's tough to understand how to be a good parent during the divorce process. You should avoid making promises you can't keep when it comes to child custody, and you should instead consult with your attorney first. There are several signs you need a child custody lawyer, but the most obvious sign is if your spouse has a lawyer and you don't. Get an attorney involved in the process as early as possible, otherwise you may hurt yourself and your children in the long run.