How To Make Your Own Cultural Drum
How To Make Your Own Cultural Drum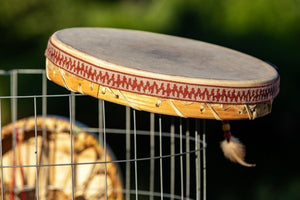 In Native American and African culture, drums are a sacred instrument. If you plan to make a Native American drum, ensure you're doing it for the right reasons. These drums have heavy spiritual and symbolic implications and aren't intended as a "fun" or "quirky" DIY project. They should be crafted as a means of showing appreciation and respect for the culture.
If your heart's in the right place, here's how to make your own Native American–style drum. There's a wide range of designs and types you can make, but one of the most common and easily constructed is the hand drum.
Gather Your Materials
Before starting, you'll want to confirm that you've gathered all the necessary materials. Here are some of the things you'll need:
Large strip of rawhide, calfskin, or goatskin
Smaller strip of rawhide (for lacing)
Wooden hoop frame (12" in diameter or less)
A large container of water
Awl or leather puncher
Scissors or a sharp knife
Plastic tarp (for drying)
Painting materials and accessories (optional, for decorating)
Dried sage and a lighter (optional, for blessing)
You can find the more general materials, like scissors and tarp, at your local craft or general store.
For the harder-to-find items, you should strongly consider purchasing from verified Native artists. This guarantees that your drum will be of high quality and constructed from authentic materials. It also shows your support for the culture and its people. Sites like Etsy, where Native artists can set up their own shops, are a great place to start looking.
If you're hoping to purchase everything in one swift transaction, consider getting a pre-made kit. It'll provide you with everything you need to get started.
Make the Drum
The most important step of making your own Native American drum is the construction phase.
Start by cutting your rawhide into a circle. Make it slightly larger than your drum's frame. If you don't have any premade lacing, make your own by trimming the excess rawhide into a long thin strip.
Once your circle (and lacing) is complete, you'll want to soak the rawhide overnight. Submerge the material in cold water and leave it there for several hours.
After soaking the rawhide, prepare to construct the drum. The first things you'll need are the base, lacing, and frame. If you're planning to bless your drum, now's the time to do it. Burn your sage and recite a traditional Native prayer over the materials.
Next, poke 16 evenly spaced holes into the rawhide base. Place the base around the drum frame and start weaving it into place. Tug the string through opposite-facing holes and secure them with a knot. When you're done, separate the strings into four distinct groups that meet at the center. This number carries a strong meaning in Native culture. Tie them with a final knot or leftover rawhide.
Congratulations! You're done. Leave the drum out to dry, which should take a few days. The rawhide will tighten up as it's drained of water, making it durable and easy to play. If you've bought decorations for your drum, like feathers or beads, or plan to paint it, do so after everything's dried.