How You Can Make Your Engagement Ring Unique
How You Can Make Your Engagement Ring Unique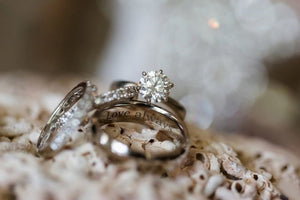 Everyone is the main character of their story, so why not propose to your partner with a one-of-a-kind ring that makes them stand out among other spouses-to-be? A high price point doesn't always equate to uniqueness—sometimes, the most beautiful and different rings are around the same price as a standard engagement ring.
Before you finalize your purchase and put money down on a ring you're not impressed with, learn how you can make your engagement ring unique and find the perfect piece of jewelry that accurately captures you and your future fiancé's bond.
Choose To Use Colors
If you and your fiancé think that the traditional diamond ring lacks originality and color, skip the diamonds altogether and use a different gemstone! Many couples choose to use a colorful gemstone that they feel represents their love more accurately than diamonds do. Alternatively, if you still want the durability of a diamond but want color on the ring, find a jeweler that uses colorful diamonds and use those instead.
Are you still hard set on purchasing a white diamond ring but want color in the design? Consider using a different color of precious metal for the base of the ring itself. Rose gold and white gold are popular choices, but you may also consider black gold for an even more unique twist on the typical engagement ring.
Search for a Vintage Ring With Personality
Sometimes, a ring with personality doesn't require you to design anything—there are plenty of vintage and antique engagement rings with retro styles and incredible individuality. Search online and in antique stores for a ring that calls out to you; you never know what sort of unique designs you'll find until you see them.
Remember: vintage engagement rings require special care, and some may even require restoration. Even if you find a weathered or damaged ring with potential, you can use it to inspire a new piece or touch it up for a truly special engagement ring with a story.
Get Creative With the Engraving
Ring engravings aren't always an anniversary date or you and your spouse's names. There are plenty of unique laser engravings that can add a unique, subtle touch to your already beautiful engagement ring—you just need to use your creativity. Consider etching the visual representation of soundwaves for a part of your favorite song or a favorite phrase. Even a simple "I love you" soundwave personalizes the ring for your beloved.
Other engravings you can include on the inside of your ring are:
A special phrase that represents your love
Famous quotes
A heartbeat engraving
A small picture or design
Nicknames
The place you met (by name or by coordinates)
If you don't want to get an engraving inside the ring or already have an engraving, consider a laser etching on the gemstone itself! Though a tiny engraving at the bottom of your cut diamond may not seem that meaningful, it's a subtle method of how you can make your engagement ring unique that only you, your partner, and anyone else you show the ring to will know.