Meet the Artist: Jesse Raudales
Meet the Artist: Jesse Raudales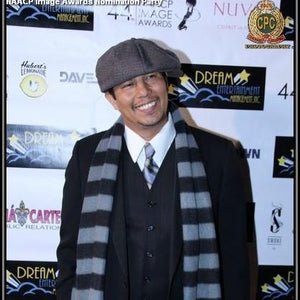 Many artists discover their passion and talent for the craft later in life, when they've begun to understand who they are, what they seek, and what they want out of life.  But for some, they're simply born with a penchant for creation from an early age.  This is the case with Jesse Raudales, who learned of his own love for creating art as a young boy and carried it through his early years of life. 
Recognized for his depiction of key Latino and African American figures and culture, Raudales' work includes emotional and striking depictions of key contemporary figures like Michelle Obama, Nipsey Hussel, Kobe Bryant, and Colin Kaepernick, as well as widely-recognized figures from decades past, including Frida Khalo, Muhammad Ali, Jimi Hendrix, and Prince.  With subtle colors, blended lines, broad strokes, and smooth textures, and front-lit pieces, his work doesn't stop there, but continues into culturally relevant subjects and moments, often revealing pride, struggle, and emotions.
Though his content is markedly consistent in this respect, his mediums range including acrylic paintings and digital graphics and prints.  His style also depicts range, with minimalist pieces, abstract expressionism, pop art, color prints, and ad variety of other styles.  As a graphic designer, his resume includes logos he's created for recognized names like Dwayne Wade Mc. Hammer, and the Martin Luther King estate, as identified on his website.
His eye-catching pieces are culturally, socially, and politically relevant, and paint a picture of the significance of struggle and presence of minorities, including Native Americans, African Americans, and Latins.
A stand-out moment of recognition for the North Carolina-based artist came when he was selected to be one of the first Latin artists to be commissioned to create a piece for the 2006 Winter Olympic Games in Turin, Italy. Selected out of thousands of applicants, he created the work, "Peace for the Children of the World", a Picasso-inspired piece depicting a series of lines that sketch out the face of his son, Jesse Jr, and the outline of a dove. Simple, yet beautiful, the work was showcased on posters during the Olympic games, bringing him an unprecedented level of recognition and respect.
Though he identifies as a modest family man, and a man of faith, his work is found in the homes of celebrities, including Terrence Howard, Snoop Dog, and Dr. Dre, and he has received recognition for his work from the NAACP, the FBI, Warner Brothers, and others. 
Branching out from his paintings and digital artworks, Raudales also engages in motivational public speaking, where he encourages individuals to change their mindset in order to accomplish their dreams and encourages many to live full lives with dreams fulfilled.
It is both through the spoken word as well as the with the power of images that Jesse Raudales manages to reach, influence, and inspire those who hear him and witness his artwork.
Check out Jesse Raudales'' designs featured on our greeting cards.