Tips and Tricks for the Perfect Wedding Thank You Notes
Tips and Tricks for the Perfect Wedding Thank You Notes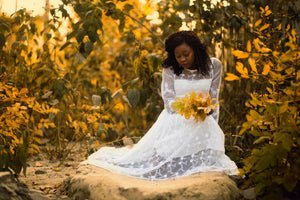 For a lot of people, their wedding day is in fact one of the single biggest, most important days of their entire life. It's a day that happens once, is over before you know it, takes a year of planning, costs thousands of dollars, requires an entire team of people (planners, mothers, fathers, bridesmaids, groomsmen, etc), and requires such an extensive attention to detail that they're probably as stressful as they are wonderful. In light of the entire squad that it took to help make this day as magical and perfect as it was, it's critical that you don't forget the thank you notes!
Be Timely
It can be pretty easy to get swept up in the honeymoon bliss right after the wedding, and to maybe even get a little bit lost in all the life-changes and whatnot that follow in the first year of marriage.  No one expects you to get the thank you notes out a week after the wedding, but you definitely don't want to wait half a year either! Give yourself a window (one to three months post-wedding) and set it as a hard deadline to ensure you hit that deadline. Don't wait longer than three, because then your message loses sincerity. 
It Takes a Village…
This means two things, the first of which is that it took an entire village to help you get ready for your special day, so you should probably get around to thanking them.  Be sure to include all of them in your thank you cards, not just the people who came bringing gifts and presents. The second part of this is that you don't (and shouldn't) find yourself writing these alone. At the very least, it should be a couple activity and they should be written by you as well as by your new spouse. Make it a team effort, a bonding activity that the two of you complete together and hold each other accountable for. 
Read the Cards, Make the List
As you open the gifts, make sure you're actively looking out for cards or messages.  Not only is this needed for you to keep track of which guests gave you which gifts, but it also helps ensure you avoid misspelling any names, and helps you keep track of guests as well as their plus one listed on the card. As you read through the cards and open the lists, write down the name of anyone listed on that card, then write specifically what that gift was, and follow it by jotting in any notes or comments included on that card that might help you personalize a message. 
Use a Template, not a Copy-Paste
A copy-paste means that each page has an identical message but with just the name changed across the top. You don't want a copy-paste message, one that you rewrite on each and every thank you note to your guests. They're impersonal and open you up for error.  A template, however, simply helps you to have a formula that can be used to speed up the writing process for your notes. Template or formula would be something like:
First sentences: Thank you for attending and for the…
Second Sentences: What you'll use it for.  (People love to you know plan to use their gift).
Third sentences: Something that you can either pull and respond to in their card, or simply identify when you might see them next. Decide a template before you officially start writing so you can knock them out quickly as you go. 
Be succinct but remain clear
The template really helps with this one, but it's important that you clearly and carefully articulate your gratitude towards them, but you need to do it without writing in an entire story.  A simple three to five sentence response is enough.  Don't cram words on the card, don't reiterate what happened at the wedding, and don't stray too far from your actual purpose here. 
Let's close it out with a simple list of DO's and DO NOT's:
DO:                                                                
include guests and their plus one
open gifts before writing thank you notes
carefully write down each gift and the gifter on a sheet of paper
follow a formula
write them by hand (excellent personal touch) 
DO NOT:
misspell anyone's name
wait longer than three months
write the same message for every single guest
follow the invited list when writing these (an accidentally send a thank you to a non-attendee)
ignore cards from guests, use them to help you remember names 
You may be over all the hurdles from getting that wedding to happen perfectly in the first place, but don't shirk your duties and think that something like thank you notes doesn't matter! Browse our wedding, thank you cards and create a card products to use to show gratitude to those that supported your special day.  
---