What to Get Dad for Father's Day
What to Get Dad for Father's Day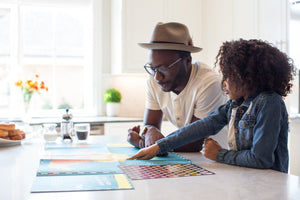 You know that moment when suddenly Father's Day is just around the corner, and you've been so caught up in life, that it's snuck up on you and now you've got one day to figure out a gift?  Make this the first year you skip out on that panicked rush, and check out some great gift ideas for Father's Day (which, by the way, is June 16th).
The Bourbon or Beer-Loving Dad
These  Black owned vodka, whiskey, tequila and cognac make great gifts for dads.  Also checkout these incredibly unique barrels that we found on Etsy.  They are more than just storage space, they're personalized, well-crafted, remarkably different, a great conversational piece, and a stunning decorative piece.  Great for storing wine or liquor, the barrel can be engraved with your own personal name or message, with various font and barrel style choices available to personalize it even more. Give it to him filled or empty, but either way he's going to be impressed.
The Sporty Dad
Baseball season, football season, hockey season, basketball season: some fathers wait excitedly for one just one season, while other fathers eagerly move through each season with equal anticipation and joy.  There are few things some fathers love more than March Madness or Football Sundays or watching the World Series.  Your next step is to find him the perfect gear to wear come game day.  These hats, shirts, banners, flags, blankets, scarves, mugs, or wall décor are all available in NHL, NFL and college teams, and are quality materials and products made to last.
The Well-Groomed Dad
Some dads love looking, smelling, and feeling great, and what's better than supporting them looking their best?  There are plenty of growing subscription kits that are all about men's care and self-grooming, and the Dollar Shave Club is one of the originals. Kits, trials, gift sets, subscriptions- check out what they have to offer and see what your dad is most likely to love. 365 Body Love also has great gifts for dads including beard balm, and body butters. 365BodyLove's products are great for skin tones that are blessed with an abundance of melanin.
The Dad of Leisure
Whether your father is a retired man of leisure or he simply cherishes his time out on the golf course.  Whether it's time or money, it's likely he's not headed out there quite as much as he wishes. Why not bring the convenience and ease right to him with a small, indoor putting green perfect for practicing and relaxing. With a 9-foot stretch, he'll likely be excited to improve his accuracy and skills, too!
The Hard-Working Office Dad
A few years ago, they discovered that sitting down at a desk all day was detrimental to one's health, and that it brought immense benefit to use a standing desk instead of a sitting one.  Show him you want him to stay healthy and mobile, with a pop-up standing desk extension that he can use at work or at home as he likes, and it's not-permanent, so he can still choose to sit on the days he feels the most tired.
The Grill-Loving Dad
There's just something about the smell of barbecue with fresh food laid out to grill, that makes some father's feel excited about the weekend. For some dad's grilling is no joke, it's an art meant to be taken seriously, and in order to show him he is the master of his art, you can gift him with a personalized bamboo wood BBQ grilling set, complete with tools inside to help him perfect his craft.
Don't wait until the last minute to try to figure something out, and seek out a gift your dad is really going to love this Father's Day.  And as always, you can send a card.