3 Tips for Hosting the Perfect Backyard Wedding
3 Tips for Hosting the Perfect Backyard Wedding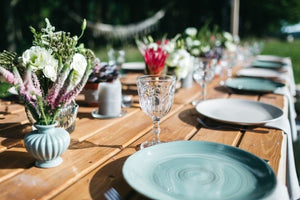 Fall weddings are beautiful. Are you considering having a backyard wedding? There are many benefits to hosting your ceremony and reception at a loved one's home or in your own beautiful yard. The smaller space creates a more intimate gathering. The natural scenery creates gorgeous and easy décor. Plus, a smaller home gathering is a great choice for couples who want to get married safely during the pandemic. Like all weddings, however, a backyard ceremony takes some careful planning. Make your big day as smooth as possible with these three tips for hosting the perfect backyard wedding.
Lean Into the Scenery
Your backyard setting is the perfect foundation to build a stunning venue. When planning your decorations, take advantage of what already exists in the area. Spruce up the garden or flowerbeds to look their best on the big day. Use trees or fences to hang lanterns, streamers, and other decorations throughout the yard. Try to match little details like tablecloths or centerpieces to the plants in the yard or the decorations around the house. You can also rent and decorate a tent to make the yard look even better—and protect your guests from bad weather while you're at it.
Outline the Space
Backyard weddings mean working with less space, so it's important to make every square inch count. When you envision your ceremony, does it transition easily into your reception area? Do you have enough room for guests to sit and eat, dance through the reception, or stand around and talk to each other? Before you start getting into details, it's important to outline your space. This will help make sure you have the room to include everything you want on your special day.
Don't Forget About Cleanup
A backyard wedding means you don't have to pay for your venue. Unfortunately, that also means you and your wedding party are in charge of preparing the space, maintaining everything during the day, and cleaning up after the event. One of the most important tips for hosting the perfect backyard wedding is to keep these responsibilities in mind. Preparation and clean-up times should be part of every decision you make. When you make these considerations ahead of time, you give yourself much less stress and work on the day of the ceremony.