3 Tips for Improving Your Scrapbooking Game
3 Tips for Improving Your Scrapbooking Game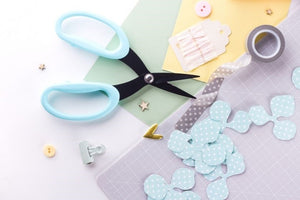 Scrapbooking is a fun, creative hobby for creative minds of all ages. If you have a memory you want to preserve, scrapbooking is a beautiful way to keep it. With gorgeous pages, fun stickers, and endless other options, it's easier than ever to stop by your local craft store and start your first scrapbook. While a lot of scrapbooking is simply putting the time in, there are a few things you can do to make your memories stand out even more. Check out these tips for improving your scrapbooking game and creating a keepsake that your family will treasure for generations.
Build a Cohesive Look
While each page of your scrapbook will burst with specific memories and ideas, you can make the entire thing fit together better by choosing an overall theme or color scheme. Maybe all your pages use the same colors or designs. Alternatively, you can make each type of page stand out by having a unique theme for your vacation pages, another for life events, and so on. When you create a unifying look for your scrapbook, you help the entire book fit together and flow beautifully from your first page to your last.
Look Beyond the Photos
Scrapbooks are a great way to look back at photos, but that's not the only thing you can incorporate into your pages. One of the best tips for improving your scrapbooking game is to move beyond traditional photos and add other unique elements to your pages. Add tickets, brochures, notes, and other small scraps of paper to memorialize the little details from your life. You can cut out pieces of newspaper articles, tuck away receipts and ticket stubs from your favorite outings, or even save bits of wrapping paper from memorable gifts. Even the littlest keepsakes can become unique, memorable treasures.
Get Creative with Decorations
Scrapbooking is all about your own style. Decorations are a great way to make each page match your personal vision. While you can easily find cute stamps or pages of stickers, you can also get more creative with the details you add to your book. Attach ribbon or twine to create beautiful borders or accents. Use wax seals to add a touch of elegance. Dried leaves or pressed flowers also make charming additions to your scrapbook. Don't be afraid to experiment with different ideas and looks to create the scrapbook of your dreams.