3 Ways to Connect with Your Grandparents
3 Ways to Connect with Your Grandparents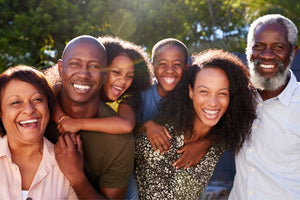 Grandparents are the bedrock of so many families. Our grandparents tie the family unit together and help create a familial legacy. Yet, as influential as they are, lots of families struggle with intergenerational communication. If you're a young person who wants to create a stronger relationship with your family's ancestors, read these three ways to connect with your grandparents. Your family will be stronger for it if you do—at the end of the day, that's what truly matters.
Go Through Your Family Heirlooms
It's so important to have family heirlooms. Heirlooms help create a family's legacy and they're interesting conversation pieces. Heirlooms can also help connect past generations. If you want to create a stronger relationship with your grandparents, please, go through your family heirlooms together. You'll have so much fun learning about the history behind each artifact. Lots of grandchildren tend to forget that their grandparents were young once, too. You'll get a kick out of hearing stories from grandma's youth. You may even learn that you two are more alike than you think.
Take an Interest in their Interests
Another way to connect with your grandparents is to ask them about their interests. Elderly people have hobbies, too. Your grandparents will appreciate you asking about theirs. After you learn what they like to do, offer to try it with them. If your grandpa likes to read, read a book together at the same time so that you can discuss it afterward. Conversely, if your grandmother is an avid antique collector, search the internet for a precious item she's missing. She'll be so grateful that you took the time to find a piece for her collection.
Teach them Something New
Consider teaching your grandparents something new if you want to spend more time with them. Not a lot of grandparents are known for being tech-savvy. Change this sentiment and teach your grandfather how to use a technological device. Your other family members will be so impressed if you could teach grandpa how to use an iPhone. There are tons of technological machines that can improve your grandparents' lives as well. For example, it'd be beneficial if your grandma knew how to use Amazon Alexa in an emergency. If you teach your grandparents something new, you can spend more time with them and help them lead better lives.
As we all know by now, the elderly are at a higher risk of contracting COVID-19. The world has shut down in the hopes of containing this virus and limiting the number of cases. Since most of you are probably practicing social distancing during this time, you may have to wait to do these activities with your grandparents. However, you can still stay connected with them during this uncertain period by calling them everyday and reassuring them that everything will be okay. Soon, things will be back to normal, and you can hug your grandma once again. In the meantime, it'll mean the world to them if you reach out, remind them how much you love them, and express how excited you are to see them once it's safe once again.
SEND THEM GREETING CARDS
And of course, our substantial catalog of Black Greeting Cards is a perfect way to stay connected with your elders. Mail your grandparents words of encouragement, wish them Happy Birthday, Anniversary or any special occasion, sentiment or holiday.