Thank You, Coronavirus Helpers
Thank You, Coronavirus Helpers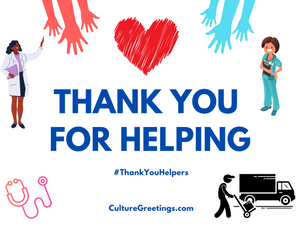 A simple thank means so much and warms the heart.

Join us as we thank the delivery drivers, grocery store employees, first responders, health care workers and more who are making a tremendous sacrifice to support the COVID-19 fight.

Please post this flyer or something similar across social media. Also print it and post it on your window or on your front door.

In addition to posting the flyer, you can leave baskets for them, send lunch and greeting cards to show them that they are appreciated.  Please tag us in your social media posts and use the hashtag #ThanksYouHelpers.
IG:  @culturegreetings
Facebook:  @culturegreetings
Twitter: @culturegreeting