4 Simple and Fun Ways to Entertain Kids This Summer
4 Simple and Fun Ways to Entertain Kids This Summer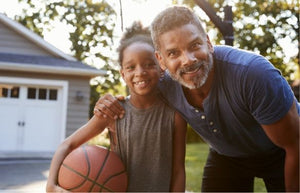 We're going to have to get used to a different type of summer this year. We're not going to be able to take our July vacation, head to summer concerts, or enjoy endless time with friends and family like we used to. It's the price we pay for keeping loved ones safe and healthy! That said, it's hard for kids to understand the idea that some of their favorite activities are postponed until next year. However, the fun doesn't have to wait until then! Here are some of our favorite ways to entertain kids this summer—sometimes, even the simplest of activities provide that burst of joy we all need.
Find a New Game to Play Each Week
Summer is the perfect time to delve into new activities. In the past, the kids were probably participating in a wide range of summer sports and activities. Though they can't do that right now, that doesn't mean they can't still play. Spend time playing basketball one week and something as simple as Simon Says the next week. Playing a variety of games with kids is also one of the main ways parents can help kids develop their gross motor skills!
Get Messy
When the sun is shining and the breeze is warm, use the beautiful day to your advantage. Rather than tearing apart the inside of the home with messy crafts, take it outside! Let the kids find the beauty of finger painting outdoors, explore the interesting world of mud, and all those other activities you don't let them do inside. Though they may need a shower afterward, getting messy is a big part of entertainment for kids. Find new ways to let their creativity flourish without having to worry about a big mess afterward.
Delve into Fun Learning
Though your kids may be done with school for the season, that doesn't mean they can't keep learning. In fact, there are plenty of ways to continue your kids' development without having it seem like they've stepped back into the classroom. For example, although museums may not be open quite yet, on rainy days you can take them through some virtual museums. If your local library has opened back up, see if you can rent some books based on what you saw virtually. Things like reading and documentaries hardly seem like forced learning and the kids can spend hours enjoying!
Head into Nature
Nothing beats the glory of the outdoors! Heading outside into nature is one of the best ways to entertain your kids in the summer, partly because there are so many options. Take a bike ride, have a picnic, go on a walk with the dogs, spend time in the garden, or go berry picking. The more time outside, the more entertained the kids will be—not to mention, it's another aspect that helps them develop!