The Different Photography Styles to Master
The Different Photography Styles to Master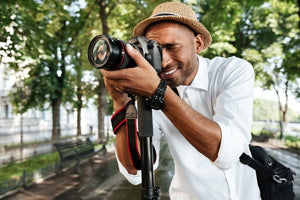 Whether you consider photography a hobby or you want it to be your career, you probably have a passion for capturing memories. Now, we're photographers––or creatives––so of course, we don't scratch our creative itch by merely taking a few pictures. We need gear like tripods and lighting, and lenses that allow us to adjust shutter speed and aperture; all so we can create unique images.
Although we're not just taking unique images, we're applying different photography styles. There are dozens upon dozens of styles, and many of us want to prove that we can do them all, but that's simply impossible. Photography is a marathon, not a sprint. You have to spend time practicing for decades and even then, you might not reach your peak. Below we discuss a few of the different photography styles to master, before trying to master other styles.
Portrait photography
Every photographer should know how to take a great portrait. A couple examples of legendary portraits are Afghan Girl by Steve McCurry and a portrait of Winston Churchill by Yousuf Karsh. Notice each photographer's excellent use of blurry backgrounds. Additionally, the colors in Afghan Girl are beautiful and the shadows around Churchill made him look more like a model as opposed to a world leader during a world war.
Landscape photography
You should also be comfortable with taking landscape images. Now, don't make the mistake of assuming you can't practice landscape photography because you don't live near mountains. You can take landscape photos of a beach, a city skyline or intersection, and even an open field. Landscape photography will help you get comfortable with choosing the appropriate camera settings based on the lighting.
Action photography
At some point, you might want to take a picture of your kid playing a sport or a bride and groom dancing at their wedding, or another moving subject. Action photography will help you freeze that movement and capture the perfect memory. Learning how to take better action photos can be challenging, but it requires practice like any other photography skill.
To reiterate, there are dozens of other photography styles. The ones mentioned here are merely the different photography styles you should master. If you can master portrait, landscape, and action photography, you'll be in good shape for mastering any other photography style.