6 Perfect Gifts for Moms This Mother's Day
6 Perfect Gifts for Moms This Mother's Day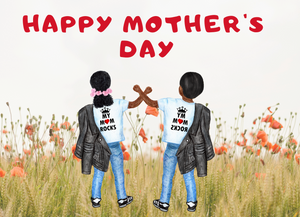 With Mother's Day just around the corner (it's May 12, don't forget to write it down!), it's time to start thinking about what gifts to get some of the most important women in our lives.  Whether it be your own mother, a grandmother, a mother-in-law, or even the mother of your own children, it's a great opportunity to simply have an excuse to put their efforts, love, and care on display. 
More than just breakfast in bed, or a family brunch outing, there is certainly more than one way to spread the love and make sure she feels special this Mother's Day. (Note- we also want you to send a card to every mother you know). There are a few creative ways to get them something special to go along with whatever else you have planned! Check out our tips below:
1. Spring Candle with a Touch of Something Extra
A lot of the women we know happen to separately love candles, surprises, and jewelry.  This delightfully scented line of candles perfectly combines all three.  Each individual candle comes with a delicate little ring hidden somewhere in the wax.  As the wax burns and the scent emanates throughout the home, it burns down to the tiny little foil-wrapped ring, waiting as a surprise somewhere inside. The candles themselves are well-sized for their price, but even better, the rings can range anywhere in cost from $5-$5,000, meaning she might be in for a bit more of a surprise as the wax burns down.  Regardless, it's unique, thoughtful, and adds a touch of excitement to any gift.
 2. Exotic Tea Assortment Set
 Tea not only is known for its delicious flavors, but also for its healing properties and qualities.  Some alleviate stress, other's offer a perk from a kick of caffeine, some are calming, some help us sleep, but regardless of the aids they can provide, a lot of people enjoy it.  This assortment of teas transport the mother in your life across ten different locations across the world, simply through a cup of tea.  It's a fun way to get some variety and change into their life.  The unique packaging and exotic nature of the teas make for not only a fun gift, but a great conversational piece as well.
3. Customizable Star Map
The whole point to celebrating this day for women is not just about being women, but about their journey into and through motherhood.  It's momentous, life-changing, emotional, and permanent.  A star map like this is a wonderfully creative way to commemorate their journey, and the day that it started.  You can customize them to match your specific date and event, but essentially they're a poster map that marks the placement of the stars in the sky on one specific date.  It might be your birthday, the birthday of the first child, the birthday of the newest babe, or even the birthdate of the particular mother you're honoring this date, but it's sure to be a gift not like others!
4. Family Tree Art
Seeing as it's a day to appreciate, celebrate, and be around family, it's highly appropriate day to gift an incredibly unique family genealogy chart with an elegant yet rustic feel and style to it. Available in three different, customizable styles, these ones can cover multiple generations, include names and dates of life, to recognize the impact and result of becoming a mother and growing a family. Not only is this great for décor, but can become a significant family heirloom.
5. Body Love
Every mother cares about her mind, body and soul.  From body oils to artisan soap to hair care products - 365 Body Love offers the perfect Mother's Day gifts.  They have face + body skincare products, all naturally made in small batches focusing on integrity and sustainability.
 6. A Gift that Gives
There are simply some mothers out there who really only want to keep passing forward the love and care that they give out to you and your family regularly.  While actual gifts are always great, you know your mom best, and if she doesn't want a physical gift, a donor gift in her honor might perfectly fit for you to give her. Plenty of organizations offer symbolic donations specifically for Mother's Day, as a way for your to honor the mother in your life. These gifts are given in varying amounts (so you can tailor it to your own budget), are tax deductible, and go on to help others.
---