5 Perfect Gifts for High School Graduates
5 Perfect Gifts for High School Graduates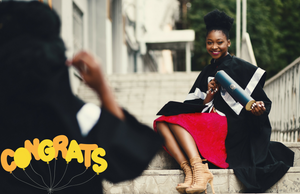 In their senior year, the months of April, May, and June are often the most exciting couple of months in a high school student's life.  Spring break is closing out (their last break before the last stretch to graduation), college acceptances have been received, dorms and roommates are being revealed, and not to mention the rite of passage experiences like prom or grad night. 
They're getting ready for these big final moments, their entire lives ahead of them, as they wait to enter into the unknown and the exciting. At the same time, they aren't entirely sure what's ahead, they aren't sure how best to prepare, they don't exactly know what they'll need, and yet they're excited all the same.  When you want to give them a proper farewell, it often comes with a meaningful and well-selected gift.  Here are five perfect gifts to gift them as they head out on their next big adventure.
A beach cruiser bicycle
Most college freshman don't have cars, aren't allowed cars, or simply won't have much need for a car. They're making their way around campus, heading from class to class, to the dorms, to the common areas, or to school events.  Most of them simply don't need a car yet, but this doesn't mean they don't have places to go.  Not to mention, many campuses are not simply a five-minute walk from end to end, but can take up nearly entire cities.  Beach cruisers are the ultimate means of transportation on so many campuses nationwide, as students bike from dorm to class and back.  They're easy, laid back, and most campuses provide plenty of space for locking up bikes because they recognize the popularity.
Quality, noise-cancelling headphones
It's scary to think about, but so many students will quickly find that between crowded lecture halls, packed libraries, crammed cafeterias, and dorm rooms with roommates, they simply won't find much space for privacy.  Whether they need to study in silence or even rest on their dorm bed with some music, they'll soon be so grateful for owning a pair of stylish, noise-cancelling headphones that give them some semblance of peace, quiet, and solitude in an otherwise packed environment.
Luggage set
They've probably already thought about packing, what they'll be able to take, and what they're going to fit it all in.  A personal luggage set is not only a great gift to help them head out on their way, but it's also a gift to be used over and over, because they'll need a way to bring some clothes back when December comes and their flying home for the winter break.  
Amazon Student membership
This one is all about convenience and making life easier for them.  From textbooks, to food, to that emergency winter coat or a new pair of running shoes, Amazon Prime will deliver their needs for free within two days. They can also use it as a streaming program for their laptop, since so many dorms don't even have television.  Priced ideally for students and connected to their school email, it's a quick and easy means of getting what they need.
Fitbit activity tracker
The Freshman 15 are so titled for a reason: college students for the first time on their own, trying to balance life, eating, and socializing, struggle to effectively monitor their own lifestyle habits and the effects it can have on their bodies. Activity trackers not only help by monitoring their steps, movements, sleep patterns, and periods of inactivity, they build a consciousness and self-awareness, helping students become more involved in developing healthy habits into adulthood.
BONUS:  You can always pick from our collection of Black Greeting cards and pair the card with a gift card.  This combo makes the perfect gift for the high school graduate.  
---