6 ways to save on Amazon this holiday season (and into 2019!)
6 ways to save on Amazon this holiday season (and into 2019!)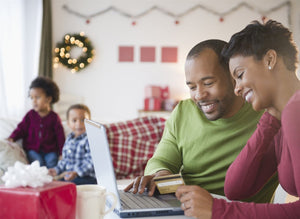 (BPT) - This time of year, family and friends gather to celebrate the holiday season. It's a joyful time, but it can also be stressful - especially if money is tight. Financial expert and author Eva Macias, who specializes in leveling the financial playing field for all families, regardless of income, says that it's possible for people to de-stress and enjoy the holidays even if their budgets are stretched thin. All it takes is a strategic, bargain-hunter's mindset.
"The holidays don't have to be a strain on your family's budget," she says. "You just need to spend wisely, look for deals, and realize you don't have to do it all yourself. The holidays should be a time to enjoy being with family - not stress about money!"
Macias's top tips and tactics to save money this holiday season include:
1. Sign up for Amazon's discounted Prime membership. If you're an EBT cardholder or Medicaid recipient, you can get all the benefits of an Amazon Prime membership for the discounted price of $5.99 per month. The majority of US Prime members have access to free one-day delivery or faster, while all receive the best of entertainment through Prime Video and Prime Music; Prime Reading; Prime Photos and more; with the ability to cancel anytime. I highly recommend signing up - it will save you money and time, not only during the holidays, but also all year long! You can learn more and try out a free 30-day trial at http://amazon.com/qualify.
2. Create a budget for your holiday spending. A budget will be your best friend during the holiday season. Figure out how much you can spend without going into or increasing your debt. Once you get this total, split it up equally among the people you are buying gifts for this holiday. A common pitfall to setting a holiday budget is making it too tight, so give yourself some leeway for unexpected costs that pop up.
3. Shop with Amazon Cash. Making purchases with cash is a savvy way to stick to your holiday budget as it makes you more conscious of what you're spending. So, try using Amazon Cash instead of your debit or credit card. It's a simpler way to shop and will help you limit your spending, plus you will still get access to Amazon's great deals and prices. You can visit more than 30,000 participating stores - including pharmacies like CVS and convenience stores like 7-Eleven - to add cash to your Amazon balance. This method is quick, easy and has no fee. Plus, for a limited time, you can get a $10 Amazon credit when you add $40 to your Amazon Cash balance.
4. Scout out deals. Look to purchase gifts big and small by regularly tracking deal offers from retailers. Amazon's Lightning Deals offer new deals daily that help you save money and allow you to find the best prices on items you need, want and love, while 'watch a deal' alerts ensure you never miss out on a discount!
5. Take advantage of subscriptions. Families can maximize savings this season by enrolling in programs such as Subscribe & Save, which allows you to subscribe to items you frequently buy (such as diapers, baby food and household products), and have them shipped to you for free on a regular basis. You'll not only save up to 15% on these purchases, but also save time and energy used on trips to the store.
6. Not in a hurry to get your package? Earn rewards with No-Rush shipping. A little-known Prime perk for those who don't need their order right away is that selecting the No-Rush shipping option earns you rewards and discounts on future purchases. Rewards are automatically added to your Amazon balance so you can start saving without adding anything else to your holiday season to-do list.
With a little planning and preparation, you can stretch your budget through the holidays and lower your stress level in the process. And here's a bonus tip: You don't have to stop any of these tactics when the new year begins. It's great advice for anyone looking to start fresh and save money in 2019 too!