Black Holiday Shopping Guide
Black Holiday Shopping Guide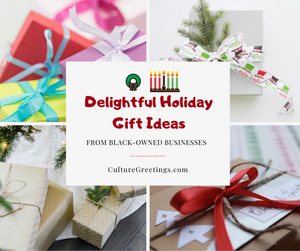 Yes, it's still the fall season, and not quite winter. Although the jolliest season of the year isn't in full effect yet, it is never too early for you to start gearing up for the season of giving. Sometimes the guesswork and procrastination can put you in a last minute hustle. So to keep you sane later, now is the best time to plan out a thoughtful-gift list, so when those Black Friday deals pop up, you're ready to shop till you drop.
The team here at Culture Greetings brought together some amazing products, cherry-picked from trusted Black-owned businesses. Let's nail the Christmas and Kwanzaa gift game and put smiles on your loved ones' faces!  Below we've listed gifts for her, him and for children.  And don't forget to send your holiday greeting cards. You already know we have an amazing collection of Black Greeting Cards spanning all holidays and occasions.  Happy Shopping.
GIFTS FOR HER
All Avenues Clothing Company, fashion dresses with a payment plan
All Avenues Clothing Company features fashion from various brands for women, men and children.  Their "Buy Now and Pay Later"  option lets you fill your basket, and then, choose ViaBill as your payment option at checkout. You can pay for your purchases in 4 monthly installments.  They give you $300 in credit with no credit check.   Check them out:  https://allavenuesclothing.com
Who wouldn't fall for pretty head wraps made with premium fabric? This is an affordable fashionable gift for any girl or woman who always want to be in style. https://thewrap.life
This pillowcase makes a perfect gift for your mother, daughters, friends or curly-haired colleagues who loves to go sleep pampered and wake up with beautiful healthy hair.  What we like from Butter and Nectar is that they have free shipping within U.S on all orders at no minimum amount.  Available at Butter and Nectar
Goodnight Darling Co. Starter Set. for a better pampered sleep, $75
This amazing set doesn't only look good, smell good but also make people feel good. It is a perfect gift for mom or grandma, who works hard and need to take time to relax or grandma who needs to feel loved, cared and a good night's sleep.  https://www.goodnightdarling.co
Amazing hair-care deluxe bundle from Tracee Ellis Ross's Pattern Brand, $126
Make her feel extra pampered this holy jolly season by gifting her this necessary luxurious hair-care set, which includes The Pattern Argan Oil Serum ($25), Jojoba Serum ($25), Medium Conditioner ($9-42) Hydration Shampoo ($9-20), Leave-in Conditioner, ($9-$25), Shower Brush ($17), Hair Clip ($10), and microfiber towel ($19). For sure, you will hold the title as "Queen/King Of The Gift Givers" for the rest of the season. https://patternbeauty.com
For some people, Christmas is a special occasion to how much they love their women and want to make them feel treasured by giving them extravagant gifts. If you want to go big this year, check out this elegant luxurious leather belt bag by ASHYA which any woman will fall in love at first sight.
GIFTS FOR HIM
When a piece of high-quality leather is handcrafted into a bag with modern utilitarian design, it is hard to resist its charm. Not to mention that leather is a strong, flexible, resilient, durable material that is also elegant at the same time. Isn't it the perfect gift for your classy man?
GIFTS FOR KIDS
Black dolls for girls

from $14.95