How to make a splash entertaining this season
How to make a splash entertaining this season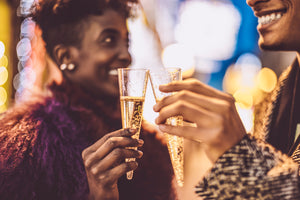 (BPT) - Looking for new party ideas for any hour of the day? With a month left in fall and winter ready to begin, entertaining can seem challenging, but it doesn't have to be. With a little creativity and the right ingredients, you can make any occasion memorable. Whether you're hosting a weekend brunch, a casual tailgate or an evening cocktail party, focus on food, refreshment and fun.
Brunch With Bubbles
To make a light and festive brunch, consider options that won't weigh everyone down for the rest of the day.

1. Eat outdoors. Weather permitting, why not give your porch or patio one more round of entertaining?

2. Keep menus light.
Try a power bowl using healthy proteins, or grain bowls with quinoa or faro. Add berries or citrus fruits like grapefruit for a bright touch, topped with yogurt and toasted nuts.
Make a frittata or huevos rancheros for an easy, one-pan entree. Let your dishes inspire your choice of drink, like a white prosecco sangria for a spicier meal.
Serve cocktails with a lower alcohol content that won't leave guests craving a mid-morning snooze. Try fresh and fruity L'Aperitivo Nonino Botanical Drink topped off with prosecco and a twist of lemon for a refreshing Nonino Spritz.
Make Mid-afternoon Moments
Find fun new recipes or change up old favorites to delight your friends while gearing up for the big game.
1. Think convenient refreshment. Nothing could be easier than bringing high-quality ready-to-drink cocktails to your tailgate party. There's a great new choice with Greenhook Ginsmiths Ready-to-Drink Gin & Tonic, which not only carbonates the tonic but also carbonates the gin to deliver pure refreshment in a can.
2. Spiced-up pigs in a blanket. Add a kick of flavor using andouille sausage instead of your usual "pigs." Wrap sausage pieces in thin-cut or pre-cooked bacon before baking in ready-made pastry dough. Create a dip using a base of Dijon mustard and honey.
3. Ultimate comfort food. For a real crowd-pleaser that combines some tailgate favorites: think baked potatoes, chili and macaroni and cheese. Serve the potatoes, chili and mac and cheese separately, providing fun toppings in a "bar" setup (think salad bar) with choices like chopped onions, grated cheese, jalapenos or croutons — the sky's the limit!
Elevate Your Evening
Whether you're hosting a sit-down dinner, a family-style meal or a cocktail party, offer unique food and drink choices to suit the season. A charcuterie board is a great start — all you need to add are some stand-out drinks to make an impression.
1. Create a charcuterie board. Charcuterie boards can be appetizers or the main attraction at a cocktail party. Select cured meats like salami, smoked sausage and prosciutto along with with spreadable choices like paté, plus an array of cheeses. Choose softer, mild cheeses and harder, sharp cheeses to appeal to every palate. Add sliced French bread and/or crackers, with accompaniments like olives or fruit. Round out the board with little dishes of mustard, honey or quince paste. Get creative as you arrange everything on a board or platter. The idea is to provide guests with a variety of seasonal flavors they can mix and match in fun ways.
2. Punch up your party. Instead of adding bartender to your multitude of host duties, make a delicious Rum Punch served in a beautiful glass punch bowl ahead of time and empower your guests to serve themselves:
Rum Punch
Ingredients:
3 ounces Angostura 5 Year Rum
1.5 ounces lime juice
3 teaspoons brown cane sugar
1 dash Angostura orange bitters
4 dashes Angostura aromatic bitters
Garnish: lime wedge, grated nutmeg, maraschino cherry
Instructions:
Shake all ingredients and strain into ice-filled glass. Garnish with lime, cherry and nutmeg.
3. Sugar and spice and all things nice. For an easy dessert you can make well in advance, offer guests a platter of chocolate truffles or fresh-baked cookies. Another fun option: Cut squares of ready-made puff pastry, add your favorite jam, fresh fruit, chocolate or nut spread, then fold the dough, seal with wet fingers and bake on parchment paper at 400 degrees for about 10 minutes.
Or instead of dessert, finish off a delightful evening by offering your guests a nightcap with some sweetness in a glass that doubles as dessert:
Amarula Espresso Martini

Ingredients:
1 shot vodka
1 shot Amarula Vanilla Spice Cream Liqueur
2 shots of espresso coffee
1 teaspoon caster sugar

Instructions:
Shake coffee, vodka, Amarula Vanilla Spice and sugar together with cubed ice.
Strain into a martini glass and finish off with a light dusting of cocoa.
There's no reason fall entertaining can't have the same fun and flair as summer soirees. With great food and drink choices, the possibilities are endless. For more cocktail recipe inspiration, visit TerlatoWines.com/Artisan-Spirits.
--
Also, check out our Black Greeting cards for the holiday season, including Thanksgiving, Christmas, Hanukkah, Kwanzaa and New Year.