DIY Gifts that Look Extravagant but Aren't
DIY Gifts that Look Extravagant but Aren't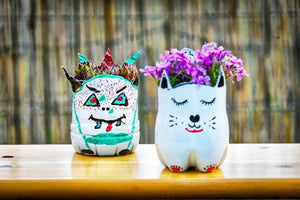 We are entering the season of giving again, and we all wish we could give the world for our loved ones. Unfortunately, the world is often a little outside our price range. But extravagant gifts don't have to come with a price tag to match. Here are some DIY gifts that look extravagant but aren't.
Homemade Spa Kit
If you look up the word "pamper" in the dictionary, you'll probably find a picture of a person with a face covered in an unidentified green paste, cucumbers over their eyes, neck-deep in mud. But a lot of us are still avoiding leaving the house, even for the sake of a luxurious spa treatment. Instead of spending the money on spa treatments they may not want, why not create homemade spa treatments to bring the spa home?
The sort of things you might find in a spa kit—face scrubs, soaks, body butter, and bath bombs—can all be made at home with a few inexpensive ingredients. Scrubs are often made with a combination of sugar and oils. Soaks often contain herbs, rolled oats, essential oils, and Epsom salts (which can be purchased at your local drugstore). And for bath bombs, you'll need essential oils, Epsom salts, citric acid, cornstarch, and baking soda. Toss them into cutesy jars, and then toss the cutesy jars in a basket with some chocolate and you've got a great gift!
Faux Marble Mug
Marble is usually associated with elegant museums and works of art. It is the picture of high-class living. Now, imagine giving someone a personalized mug made of marble. Sound extravagant and outside the budget? Not anymore. Simply apply a few drops of colored nail polish to a bowl of warm water, stir it, and then dip the bottom of a plain, white mug into it for a few seconds.  This will create a unique marble pattern. Use some sparkling gold paint and a brush to personalize it and then bake it in the oven to make it dishwasher safe. You will have created the classiest piece of drinkware they'll own.
Homemade Planter with Flowers
Next time you downsize or are trying to get rid of old furniture, don't be so quick to drag that old dresser to the curb. Old dressers are the perfect candidates to be upcycled. And if someone you know would love to have a little touch of nature in their house, you can turn one of the drawers into a gorgeous DIY planter. After applying a sealant to keep the moisture from damaging it, and a nice paint job, you'll have something that looks like it came off the cover of Better Home and Garden Magazine.
It is better to give than receive. And with these extravagant-looking DIY gifts, you'll be giving them more than just something that looks elegant. You'll be giving your loved ones a little piece of you and your creativity.