Effective Ways To Reconnect With Friends
Effective Ways To Reconnect With Friends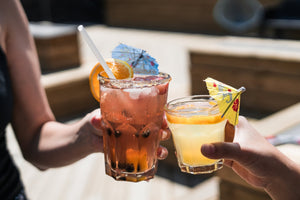 As adults, we tend to become focused on family and career goals rather than spending time with our friends like we used to. Those looking for effective ways to reconnect with friends should consider planning a fun get together with friends complete with cocktails and cookout.
Celebrate Your Friendships by Sending Invitations in the Mail.
If you plan to invite friends over, show your deep appreciation by sending them an invitation in the mail.  Cultural greeting cards and invitations are a popular and traditional form of communication. A cultural card featuring imagery aligned to Black culture helps to celebrate who we are in a light and fun way.  To simplify the invitation process, our revolutionary  solution that allows users to send an invitation in the mail to friends using our automated greeting card platform.
Send Cards for Special Occasions or Just Because
Along with acknowledging your friend's birthday and other special occasion dates, let him/her know that you love your friend just the way that they are. Delight your close friends by sending them Black greeting cards this year.
These short and sweet cards are an ideal way to show your friends that they are missed and will always remain appreciated by you no matter the distance apart. Greeting cards and postcards are terrific for touching base with those you cherish.
More Ideas for Reconnecting with Cherished Friends
If you would rather not have your friend get together in your own backyard, consider taking the party to a nearby public beach or park. Many have picnic areas with cooking amenities like grills and picnic tables.
Grill out seaside, or pack a picnic lunch with cheese and wine at a beautiful location that inspires meaningful conversations and lots of laughs. Attend an outdoor music concert. 
Plan a fun and low-key event with friends like weekend cocktails and cookout food that includes your friend's favorite menu options.