6 Memorable Tips for Making the Most of Your Family Vacation
6 Memorable Tips for Making the Most of Your Family Vacation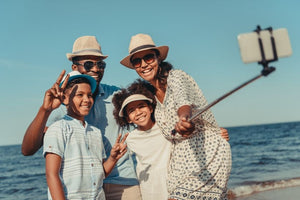 Some of the best family memories come from the trips you take together. Whether it's weekend trips to the cabin or an annual vacation to the beach or the mountains, these travel times have a way of bringing your family closer together. Ensure that your trip feels just as wonderful once you're there as it sounds while you're planning—take a look at these tips for making the most of your family vacation! Following these tips will hopefully minimize stress and tension while providing you with the tools to get through those inevitable cranky moods. It'll be a vacation you'll want to remember!
Create a Packing List for Everyone
One of the most stressful aspects of vacation planning is packing. Especially for those longer trips, people tend to run into the problem of over-packing or under-packing for the activities planned. Once you have a solid idea of what the itinerary will be like, help your family out and provide them with a packing list—even for your spouse and your teenagers. It'll make everything a lot less stressful once you get to your destination if everyone has what they need.
Leave the House Early
Start your vacation off on the right foot and leave the house early. Wake everyone up early enough that everyone has time to get all of their morning routine complete—try not to rush them through breakfast. The earlier you wake up, the more time you'll have to travel or to reach the airport. You don't want to rush through the airport and hold the tension of missing your flight, so leave yourself time!
Don't Overbook
In that same realm, when you're planning your itinerary, and even when you're on vacation, leave yourself time. Don't overbook the schedule—a vacation should be relaxing, not a stressful endeavor. You don't want to go from one activity to the next without leaving time for enjoyment and reveling in the moment. Keep activities to a minimum throughout the day, and everyone will have the time to simply enjoy the moment.
Allow for Spontaneity
Similarly, when you don't overbook the schedule, you're allowing time for spontaneity. Some of the best memories from family vacations come from the moments that you don't plan. When you keep your schedule a bit more open, you leave room for unexpected moments that make brilliant memories!
Have a Backup Plan
If you know that spontaneity doesn't tend to work for your family, make sure you have some backup ideas. Especially when it comes to weather, you never really know what could happen during your trip. If you're going to a beachy area, make sure you have some ideas for what you could do on rainy days. Similarly, if you're heading on a ski trip, make sure you have a plan for if the snowstorm keeps you indoors. Do your best to keep the mood light even if you do have to resort to a backup plan.
Take Plenty of Photos
Photos are one of the best ways to capture memories on vacation. If you want to make the most of your vacation, then you need to think about it after the trip as well. If you can include some moments from the trip in your day-to-day life afterward, then the kids will have fonder memories of the trip later on. Pictures are one way to do just that! Make sure you don't over-do it, though. If the kids aren't enjoying the posed photos at every new spot, it's best to just leave the camera in your bag.