Helpful Tips for Planning a Small Wedding
Helpful Tips for Planning a Small Wedding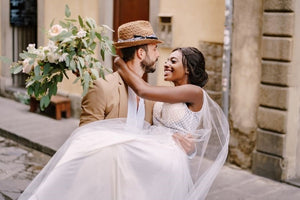 Not only are intimate weddings trendy, but they also have many benefits. As couples in recent years have tended to marry later in life, many don't feel the need for a giant wedding. Further, you can save money by keeping your guest list small and exclusive to those closest to you. Here are helpful tips for planning a small wedding that you and your guests will never forget.
Include All Guests in the Wedding Party
Consider a small wedding where everyone can be part of your entourage. If each person you invite is a close friend or relative, you will want them near you throughout the day. Plus, they'll be able to feature in your photos.
Pro Tip: Ask guests who are coming to your small wedding to dress in the colors you've chosen for your special occasion so that they will match.
Mind Your Guest List
Weddings with fewer than 50 guests qualify as small—that's 25 guests per side, not including a plus one. However, that's what you want to aim for. Weddings begin to get more expensive as you add more guests, so the best way to keep it budget-friendly is to keep your wedding small. Otherwise, you may have to reserve a larger venue and buy more food.
Customize Everything
A major perk to having a small wedding vs. a large one is that you'll have more room for customizing your party. You can find easy ways to personalize your wedding, from the food to the invitations. You'll spend less on customizations when you have fewer guests to provide for.
Improve Your Guests' Experience
One thing to keep in mind about intimate weddings is the entertainment. It can be challenging to get everyone to dance and enjoy themselves at large weddings. Think about your guests and what might get them to stay and have a good time. Possible experiences include:
Flair bartending
Table magic
Live art
A photobooth
A caricaturist
An intimate event gives you the opportunity to spend time with the people you love most. Follow these helpful tips for planning a small wedding to make your day unique and memorable. By only inviting your closest friends, you can control each element of your special day and save money for the things that matter.