How To Choose a Ring To Make Her Say, "Yes!"
How To Choose a Ring To Make Her Say, "Yes!"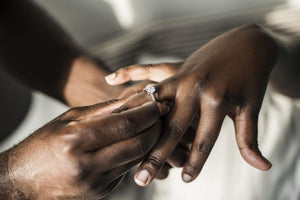 You've found the perfect woman, and now you need to find the perfect ring to ask her to be yours forever. There is no piece of jewelry more important to get right than the ring you want her to wear every day for the rest of her life—one that will symbolize your love for each other. Check out this guide on how to choose a ring to make her say, "Yes!"
Figure Out Her Preferred Era Style
One of the biggest challenges when looking for the perfect engagement ring for your future spouse is figuring out which era of jewelry she likes the best. An engagement ring is something she will wear for the rest of her life, so it's crucial that she loves the way it looks. Learn about the different styles of engagement rings through the decades, and try to identify which style she responds best to. This can mean asking subtle questions or even taking her to a department store where there is a jewelry section and asking sneaky questions, such as her favorite stones and cuts.
Talk To Her Best Friend
If you want the engagement to be a total surprise and don't want to arouse suspicion by asking questions, talk to her best friend. If she hasn't already told her best friend what type of ring she's hoping for someday, then the best friend will know exactly how to find out without tipping her off at all. This person is also most likely going to be the maid of honor at your wedding, so taking the time to bond over this monumental moment is a great way to develop this important relationship.
Ask Her
You and your bride-to-be should discuss marriage before you pop the question, no matter if it's a surprise engagement or not. It's important to know that you both want marriage eventually and to talk about when you both think your relationship might be ready for it. If your future fiancée isn't so keen on surprises, simply ask her to come ring shopping with you. Even if she doesn't want to pick out the exact ring, she can guide you in the right direction.
Ultimately, you love each other, and she will say yes because she wants to spend the rest of her life with you—not because of the ring. Of course, buying the perfect ring couldn't hurt!