Mardi Gras celebrations got off to a colorful start in New Orleans
Mardi Gras celebrations got off to a colorful start in New Orleans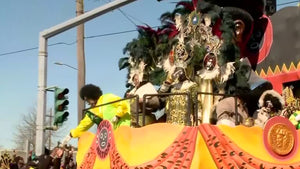 Mardi Gras celebrations got off to a colorful start in New Orleans
The Zulu Krewe Parade kicked off the day of parades with several floats and marching bands.
The Zulu Krewe is the largest African-American carnival organization in New Orleans and was formed to pay homage to the Zulu warriors of South Africa.
Their tradition of wearing blackface during the parade has drawn controversy.
Mardi Gras celebrations precede the period of fasting before Easter will culminate on Fat Tuesday, or Mardi Gras, on March 5.
---