Meet the Artist: Steve R. Allen
Meet the Artist: Steve R. Allen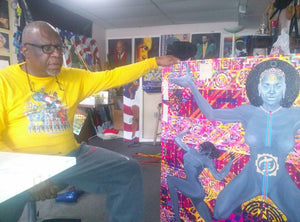 Bold, rich, intense colors, abstract interpretations, smooth and blended textures, stoic and regal portraits, warm and brilliant tones- all these are common identifiers of the effervescent artwork of artist, Steve R. Allen.  With a particular talent for capturing the energy, excitement, and pride that is often evoked within sports, the somber stoicism of regal portraiture, as well as the cultural aesthetic of Afrofuturism, Allen has spent the last three decades working to establish his own unique artistic identity.
Finding he had a forte for acrylic oil paintings later in his 30's, Allen first entered the art world in the early 1990's, having felt inspired and motivated while attending the National Black Arts Festival in Atlanta in 1992.  His first painting, "Come Monday", was painted in the same year. 
He immersed himself in his work, quickly developing his talent into one that would be recognized on the international scale come the 1996 Summer Olympics in Atlanta, the host for the event.  After having been recognized for his depiction of sport, athletes, and teams, he was commissioned to paint an 80x28 foot mural, which he titled, "Uniting Colors of the World, the official commemorative piece of the games that year.  This began a trend of Olympic, international artwork for Allen. 
As an artistic global ambassador, this Olympic trend continued into the new millennium, as he was commissioned to create further pieces of work for the 2000 Summer Olympics in Sydney, Australia, the 2002 Winter Olympics in Salt Lake City, Utah, the 2004 Summer Olympics in Athens, Greece, and the 2006 Winter Olympics in Turin, Italy. With strong, vivid colors and evocative emotions, his pieces were able to convey the intense excitement and national pride associated with the global sporting event.  As one of the first Black artists commissioned by the Olympics, t's through such commissioned pieces of work that Steve R. Allen was able to find himself in the company of international figures, like former President Bill Clinton and current Prince of Monaco, Albert II. 
And yet, Allen's diverse talents and wide range of genres branches far beyond the realm of athletics.  He is equally recognized for his strong portraiture, his creative and adaptable abstractionist pieces, and this is recognized by the placement of four of his works into the Smithsonian Institution's National Museum of African American History and Culture.  The first piece, "Freedom Journey", is a 2009 piece depicting former President Barack Obama and civil rights leader, Martin Luther King Jr., represent key figures and important moments in African American history. Two sports pieces were also placed in the Smithsonian, including, "Coming Full Circle" which represented the return of the 2004 Olympic Games to its founding city, Athens, Greece, and depicted a plethora of Olympians, many in patriotic USA attire.  
As an artist, Allen has attained a level of recognition that establishes him not only as a prominent figure in the Atlanta artworld, but on a national and world-wide level, that we'll likely continue to see, as his career continues to soar.
Check out our greeting cards that feature Steve R. Allen's art.  Send one family and friends We are confident that they'll love it and you'll thank us later.