Small Ways To Help Your Grandparent at Home
Small Ways To Help Your Grandparent at Home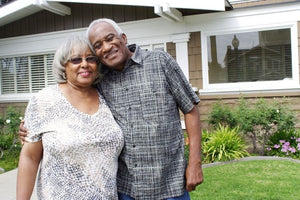 It's easy to worry about your aging grandparent, especially if they live alone in their house. After the events of this past year, you may have distanced yourself from them for their safety. If it's safe enough to begin seeing them again, start by helping them around the house. They may be stubborn, but these small ways to help your grandparent at home can make them feel warm and loved.
Send Your Grandparent a Letter or Card
Many grandparents still think that mail is the safest and most effective way to show affection from afar. They're right—who doesn't love opening the mailbox to see a card or a letter from someone they care about? If your grandparent still sends you a card for every holiday, return the favor by sending one back. Sending mail and giving them a call can make up for the fact that you can't visit them in person.
Spend Time Outside the House With Your Grandparent
Your grandparent may not have left the house in a while. Take a walk together or sit outside in the sun to refresh after a long time spent inside. Even just going for a drive around town can help them see the world again.
If you have a grandparent that still loves to drive or is too stubborn to let you drive, allow yourself to be their passenger. Stay attentive while you spend time with them. Don't spend the whole trip on your phone. Practice responsible passenger etiquette—especially if your grandparent has a disability.
Help Your Grandparent With Chores
Seniors often don't move around as well as they used to, which can make chores a frustrating hassle. Though they may want to keep their house clean, they might lack the energy to do all the necessary chores before new chores pile up.
Consider surprising them with a visit and helping your grandparent with chores around the house. Take care of some of the daily tasks, like dishes, before moving onto weekly and monthly chores that you know could prove difficult for someone their age.
Find Your Grandparent Something New To Do Around the House
This is one of the best ways to help your grandparent at home—if you give them the right gift, they can use it even when they're home alone. Try to gauge their interest in different things, like books and hobbies. Provide them with a new way to express their creativity, and they'll find it simpler to stay safe at home—and perhaps they'll feel a little less lonely.