Sweet Treats: Best Gifts To Get the Sweet Tooth in Your Life
Sweet Treats: Best Gifts To Get the Sweet Tooth in Your Life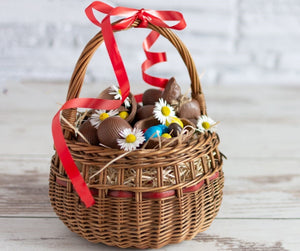 Sure, the holidays have passed, but that doesn't mean you can't get your loved ones something special. If you have a friend who loves all things sweet, then we've got the gift guide you need.
Send your friends a reminder of your love as we head into the new year. Explore some of the best gifts to get the sweet tooth in your life. From baskets to recipe books and everything in between, we've got what you need!
A Hand-Picked Chocolate Explosion
We love the idea of a more hand-picked gift basket rather than one you buy at a store. Think about getting a variety of luxury chocolates, like chocolate-covered truffles. Those will instantly elevate your gift!
You can also include some of the following:
Chocolate-covered strawberries (make sure you refrigerate them until gifting time!)
Toffee
A card
A sweet-scented candle
The options are limitless!
A Sweet Tooth's Recipe Book
Now, we understand that not every person with a sweet tooth likes to bake, but if your giftee does, this is a terrific route to go. There are tons of options out there, so try to narrow it down by thinking about what sort of treats they enjoy.
Are they a cupcake person? A cookie person? Maybe they enjoy a nice cake? There are recipe books for each persons' taste profile, so personalize the gift for them!
A Candy Subscription Box
This is a gift that can last for months to come! Subscription boxes are a beloved gift for many since it ensures the giftee will consistently get reminders of your love for them. They make many types as well, so maybe the sweet tooth in your life would prefer a myriad of sour candy or candies from all over the world.
At the end of the day, what matters is that you can let them decide what they want to have delivered to their doorstep!
Treat-Making Equipment
The last item in our quick gift guide to the best gifts to get the sweet tooth in your life is equipment! Whether you go more luxurious with a Kitchen Aid mixer or something sweet and simple, like a doughnut maker, there are tons of sweet treat equipment options to choose from. It could even be a soft-serve ice cream maker. Think about what they like to eat and what brings a smile to their face—that's the gift to give!
Spread happiness year-round. Give the gift of sweetness!