The Ultimate Checklist for Being the Best Man
The Ultimate Checklist for Being the Best Man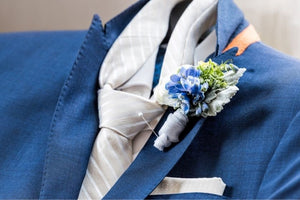 It might have been your brother or your best friend since seventh grade or your even your son. Whoever it was, they just popped the million-dollar question. No, not, "Will you marry me?" The big question: "Will you be my best man?"
And, yeah, you were probably flattered at first. You get to play a lead role in one of the most important days of your friend's life. On the other hand, now you have a boatload of responsibilities. Nervous? Have no fear. We have the ultimate checklist for being the best man to help you meet the challenge.
Help Figure Out Groomsmen Outfits
Unless you drop an award-winning album or start a film career, you will probably only have a handful of opportunities in your life to wear a tux. As the best man, it's your job to make sure you, the groom, and the groomsmen don't blow this one.
As a best man, you'll need to look into some solid wedding suit stores and get everyone on the same page about what they're wearing. Additionally, you'll want to make sure everyone ordered their ensembles early enough to leave time for any necessary alterations.
Plan the Bachelor Party
Of all the items on the ultimate best man's checklist, this is probably the most fun.  The bachelor party is the ultimate opportunity to ditch the wedding planning woes and celebrate your friend's transition from bachelorhood to wedded bliss. Keep these ideas in mind when you're planning the bachelor party:
Check the guest list with the groom.
Don't schedule it for the night before the wedding.
Plan enough events to fill the night but not so many that everyone is stressed.
Arrange a place for guests to stay the night or ensure they have safe transportation home.
Make sure the groom doesn't have to pay.
Know Everything
As the best man, you'll probably have helped plan a lot of the wedding. And as such, you'll be able to answer a lot of guest questions during the wedding to take the load off the groom's shoulders. So it's a good idea to make sure you know the answer to some of the more common questions. For example:
What time does the ceremony start?
Where is the reception?
When does the reception start?
Where should we park?
Where can I get my diet-restrictive meal?
Write a Speech
This is the scariest part of best manhood for a lot of people. During the reception, you and the maid of honor will be giving toasts, and those toasts should come with speeches. Your speech should celebrate the groom, your friendship with him, and his relationship with his new spouse. Don't overthink it. There's a reason he picked you as best man.  As long as you're sincere, there won't be a dry eye in the house.