Tips for Choosing Outfits for Family Photos
Tips for Choosing Outfits for Family Photos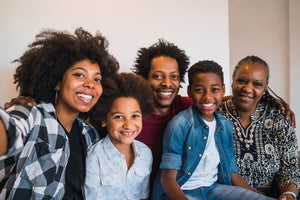 Family photos are an important part of making memories with loved ones. Even in an era of accessible digital images, there is still nothing like the work of a professional. It's the perfect time to treat the whole family to something special and make sure the next generation has more than just iPhone snapshots to look back on. However, getting everyone ready for the big day can be quite tricky. One particularly discombobulating detail is deciding how everyone should look. To help you prepare, here are a few tips for choosing outfits for family photos to include formality, coordination, and comfort.
Decide On Formality
When it comes to picture day, most of us immediately imagine trying to survive an entire day in grade school without messing up a new haircut or dirtying our fancy outfits. Strict formality is the norm with most people selecting either a dress shirt and tie, blazer and tie, or some form of elegant blouse and skirt or dress. However, for most of us, this switch over into the very formal is not complementary to our styles.
It's up to you to decide whether to stick with traditional or to experiment with more creative expression. Family photos where everyone wears something fun or funny make for great memories to hang on the wall. Someone just needs to be the referee and make the final call—after all, coordination is key to a good family portrait.
Coordinate Accordingly
How much you want the family to match is a matter of taste. When it comes to coordinating, it depends on formality and theme. One best tip for choosing outfits for family photos is to utilize color coordination. Everyone needs to mesh in the photo, and playing with color is an easy way to achieve this. Everyone might wear similar hues and tones of colors, or generations could have similarly colored outfits.
Alternatively, coordination also includes visual themes such as textures and styles of clothes. Mixing up yearly portraits with fun themes like retro or beach parties is a great way to let everyone have fun with personalizing their look, all while still matching.
Don't Underestimate Comfort
Rest assured your photographer will help arrange your family into a few fun and cute poses. However, there are still plenty of things you can do ahead of time to make their job easier. Make sure all outfits are form-fitted for the best possible look at any angle.
Comfort is deeply important as well, and often underrated. It's easy to go straight for the most formal clothes possible. While it often looks great, it can make photographs a dreaded event for many of your family members; especially any youngsters who may fidget with unfamiliar or stiff clothes. Worst-case scenario, kids even become surprisingly stressed out in uncomfortable clothes while in a new place around strangers. Making sure everyone is used to their outfits and can wear them for at least an hour without complaint will save a lot of grief.
Be sure to upload that photo to create a greeting card or postcard to to mail to family and friends.