Must-Have Props for Wedding Photo Booths
Must-Have Props for Wedding Photo Booths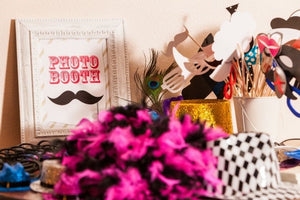 One of the all-time classic wedding features is a nice photo booth. By setting up a photo booth at weddings, the happy couple gives guests a place to create lasting memories they can hold onto for years to come. Memories in our heads are one thing, but a physical embodiment of that memory is always particularly special. To make the most of this beloved pastime, use some of these must-have props for wedding photo booths.
Diverse Headwear
Headwear is just a fancy way of saying you should fill that photo booth with goofy hats, tiaras, helmets, wigs, masks, sunglasses, and other similar props. There are many forms of fun headwear you can find easily, so let your creativity run wild. You can go with the classic cowboy hat, something more unique like a Star Wars–themed mask, or both these options and more—variety is the key to a great photo booth prop box. Viking helmets, top hats, hockey helmets, fake mustaches, and baseball caps are just a few of the additional forms of headwear you can choose from.
Word Bubbles
A collection of word bubbles on sticks are simple, silly props you'll frequently see at photo booths. If someone doesn't want to wear a mask or hat because they want to keep their hair nice and presentable, word bubbles are a great alternative. You can take multiple approaches to word bubbles. Beyond the specific phrases on the bubbles, which can vary, a word bubble's design can differ more drastically.
For example, word bubbles are available with phrases pre-written and on them. However, you can also go with word bubbles that allow guests to write and erase custom phrases. Chalkboards are pretty old school at this point, but a chalkboard word bubble gives guests the chance to personalize their photo booth experience even more.
Stylish Seating
Photo booth props don't just include materials you can hold or wear. Setting up some comfortable seating at the photo booth provides guests a place to strike unique poses or include more people in the photos. For instance, if the camera angle can't quite accommodate taller guests, some comfortable seating can help out. That said, consider using a visually appealing chair. You don't have to go out and buy the most expensive seat you can find, but you don't want guests' photos to stand out because there's an ugly, cheap chair in the center. Go for simple but stylish; it's an easier balance to strike than you might expect.
Now that you're up to speed on the must-have props for wedding photo booths, you can put one together for your big day successfully. In fact, carry this care and knowledge through each step of putting together the perfect photo booth. Learning how to design a photo booth is pretty straightforward and can help guests create wonderful memories on your wedding day.