Tips for Getting a Head Start on Holiday Shopping
Tips for Getting a Head Start on Holiday Shopping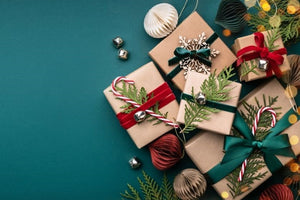 The year 2020 has been one for the books. That doesn't mean we can't finish strong. Every year, as the holiday season approaches, we tell ourselves we're going to get ahead of it. Suddenly, seemingly out of nowhere, we're behind in our shopping and decorating with the day approaching rapidly. This year, with the pandemic, there will be far less gathering, so take the opportunity to both get a head start on holiday shopping and get creative with it!
Greeting Cards Are Incredibly Underrated
The written word has a lot of power. It can make you feel so many emotions and take you back to a moment in time, almost forgotten. There are many ways to tell your loved ones how you feel. When so many feel isolated and alone this holiday season, consider sending personalized greeting cards to your loved ones—but there's no reason to stop there.
Take some time to reflect on the roller coaster of emotions and situations you've experienced this year, and consider gifting personalized cards to people you don't know all that well. So many people have experienced a level of isolation that nobody could anticipate. There are numerous ways to choose who should receive these cards. Just think about how kind and loving words brighten your days, and pass that sentiment on to others this season.
For Those Who Love the Finer Things
Let's face it; we always panic-buy for certain people. We have no idea what to get them, so we pick something random to sit in their house and collect dust. Suddenly your cousin is thanking you for the dish towels. Not this year! Consider more useful—or consumable—gifts.
Tailor your choices to food or drink and the accessories that would make these treats more enjoyable. There are many ways to cater to the sophisticated sides of your loved ones. For the wine lover, send them a bottle with a beautiful new wine key. If they love to indulge in food, purchase a specialty kit full of sweet pairing ideas or recipes with ingredients included. There are several gift options that say both, "I know what you like," and, "Enjoy this now."
This year, avoid the surplus store and the aimless, aisle-to-aisle wandering, hoping a gift idea will jump out at you. Get a head start on holiday shopping by giving some thought to what would make your loved ones smile. A loving and personalized message? A bottle of wine? A book on whiskey and chocolate pairings? Reflect on your time you've spent in quarantine and what would comfort you in this time.