4 ways to make holiday shopping a breeze this year
4 ways to make holiday shopping a breeze this year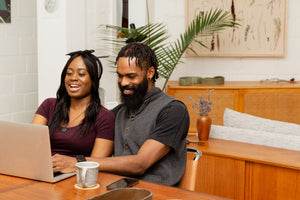 This year more than ever, we're all ready to kick back and enjoy a relaxing holiday season. Shopping online is a great way to get your shopping done safely and conveniently this year — in fact, the majority (59 percent) of holiday shoppers plan to shift more of their shopping online compared with last year, according to the National Retail Federation's annual consumer holiday survey.
Whether you love the thrill of holiday shopping or are usually more of a gifting procrastinator, here are a few simple strategies you can apply to your online shopping that will have you checking holiday errands off your list in no time, leaving you more time to celebrate with family and friends this year.
1. Make a list (and check it twice)
First, make a list of those people in your life that you want to delight with a special gift this year. Next, create a workable budget for your gift shopping as a whole, then break down that budget per person, deciding who you might want to splurge a little more on this year, versus those that might be just as happy with something simpler. That way you'll know what you can afford before your list gets away from you.
2. Start early
No need to wait until Black Friday this year to score incredible deals on everything you need this season. Beat the holiday rush by taking advantage of early savings and deals, so you can stress less and get on to enjoying the season. Amazon is kicking off the holiday shopping season earlier than ever with its Holiday Dash deals event, bringing Black Friday deals and discounts to all customers earlier than ever.
Start snatching up deals now at www.Amazon.com/holidaydash, on the Amazon App, or by simply asking "Alexa, what are my deals?" With new deals dropping every day, you can shop with confidence that you're getting Black Friday-worthy deals and incredible savings on a huge selection of products, making it easy to check everyone off the gift list earlier than ever. Best of all, online shopping means everything is delivered quickly and safely — helping you save even more time and money by not having to visit multiple stores.
3. Let gift guides do the work for you
Need gifting inspiration? If you've got your list and budget together but are stuck on a few ideas, gift guides are the perfect place to start. Amazon's holiday gift guides are easily sorted by things like price, age and areas of interest, so you can find something for everyone on your list, no matter the budget – just go to amazon.com/gifts. Still stumped? Let Alexa do the work for you by asking things like "Alexa, give me gift ideas under $50," for more gifting inspiration within your budget.
4. Get more for your dollar with easy saving hacks
For many, budgets are tighter than ever this year — in fact, a recent survey conducted by Accenture showed that nearly 1 in 4 are cutting holiday spending because of a tough year — making it more important than ever to get more for your holiday dollar.
Luckily, in addition to scouting out early holiday deals there are some easy ways to get the best bang for your buck throughout the whole season. Check out Amazon Coupons for special offers that are updated frequently on thousands of products — all without the hassle of clipping, and set up the Amazon Assistant to easily monitor and compare prices on all the products you want, so you can be sure you are getting the best deals on all the best gifts. Or check out some of Amazon's lesser known options, like Amazon's Renewed Deals, where you can discover professionally inspected pre-owned, refurbished and open-box products.
Follow these tips and you'll feel more prepared than ever going into the holiday season!