Tips for Planning an Amazing Anniversary Party
Tips for Planning an Amazing Anniversary Party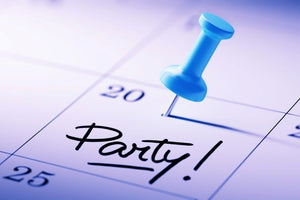 Your anniversary is the time to celebrate the special day you and your partner share. And as the years go on, the celebration often grows. No matter how long you've been together, your relationship is worth celebrating, so throw a party with friends and family. These tips for planning an amazing anniversary party keep the process running smoothly and ensures you throw the perfect bash!
Decide On a Date
Before you can book a venue or start sending out invitations, you'll need to figure out when you're throwing the party. Of course, this can be on the exact day of your anniversary, but it isn't necessary. It may be more convenient to celebrate before or after the special day. Once you and your partner pick the perfect date, look for and book a venue for the party.
Pick Out a Theme
While a theme isn't necessary, you may want to include one for your party, and there are many ways to go about doing this. You could select décor that reflects a similar interest you and your partner share or go with traditional elements.
Pro-Tip
Usually, the gift you give your partner also centers around the anniversary. For instance, diamonds are for anything above 60 years! So, if you're celebrating 60 or more years together, consider some diamond jewelry to gift your partner. This could include anything from a ring to a pendant. You may want to consider the different diamond shapes to give your partner something that truly stands out.
Send Out Invitations
Formal, in-the-mail invitations give your guests all the essential information, like how many years you and your partner have been together and your names. But invitations also include details such as:
Where the party is located
What time the party starts
If there's a dress code
How to RSVP for the event
When you're picking the perfect invites to send out, you could include a cute photo of you and your partner or pick an invitation that reflects the party's theme.
Plan a Menu
Establish a menu as soon as possible in case you need to hire a caterer. And as you settle on a menu, you should take time to think of any dietary restrictions that guests may have. This is also when you'll have to decide whether you'll have a buffet, sit-down meal, or serve food family- style.
Decide On Entertainment
Finally, book some entertainment and a photographer. You also may want to think of different games for guests to play during the party to ensure everyone has a great time. The games and music you choose are up to you; it could be something that reflects or showcases your relationship.
Throwing a memorable party takes hard work, but with these tips for planning an amazing anniversary party, you'll know where to start. Remember to send out those invitations as soon as you set the date, so people have time to RSVP. After all, this party is for you and your partner to celebrate your relationship with those you love the most.