Top Tips for Aspiring Photographers
Top Tips for Aspiring Photographers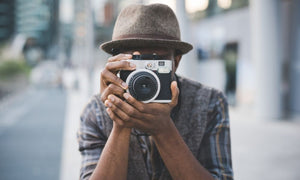 A picture is worth a thousand words. This statement continues to ring true today, and photographers now serve an important role in the documentation of our world's history and culture. In addition to documenting cultural changes throughout the world, photography also serves to document moments of beauty in everyday life. With the rise of technology and smartphones, almost anyone can snap a beautiful photo, but it takes a true artist to develop that skill and become a renowned photographer. These top tips for aspiring photographers will help you hone your skills so you can score the perfect snapshot every time.
Experiment with equipment
The face of photography has changed many times, over the years. The most notable changes came with the shift from print media to digital media and the introduction of smartphones and digital cameras. While polaroid may not be common anymore, there are no rules that state you cannot utilize this piece of equipment in your photography practices. Experimenting with a variety of equipment is the best way to discover what methods work best for you. Not only should you experiment with different camera types, but you should also experiment with different settings on the camera. Adjust the focal length and aperture, and experiment with how these settings will achieve very different end products, even when working with the same subject matter.
Find your niche
With the rise of Instagram and smartphones, virtually everyone fancies themselves a professional photographer nowadays. As such, it can be hard to stand out amongst the crowd. Taking some time to develop your niche will help give you an edge over other photographers and will give your images a little something special. Landscape and wildlife photography can be quite a lucrative field and can take you to exciting destinations around the world. If you prefer to remain a bit closer to home, consider making a name for yourself in portrait or still life photography instead. Choose a niche that reflects your interests and passions, as this will motivate you to take more emotional and inspiring photographs.
Take risks
Perhaps the most difficult tip for aspiring photographers is to simply let go of your fear and take a few risks. This can be daunting at times, especially when insecurity over your abilities begins to creep in. The most important thing to remember is that it's okay to make mistakes and that not every photo you take will be an award-winning image. Use these instances as teachable moments, and keep moving forward no matter what. Take risks with your subject matter and freely experiment with colors and patterns. Not only will this help set you apart from other photographers, but it will also help you discover which artistic elements work well together and which do not. And lastly, you can always use your photos on Black greeting cards.  Our create-a-card templates are an ideal way to showcase your photos.