Ways To Donate to Military Families During the Holidays
Ways To Donate to Military Families During the Holidays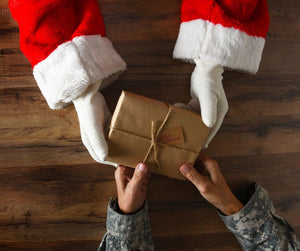 Deciding what cause to give back to for the holidays can feel overwhelming. There are so many to choose from; you've probably joined a soup kitchen, donated food to a local food drive, and so on. However, you want to change your contribution this year and set time aside to help military veterans and families.
So here are a couple of ways to donate to military families during the holiday. By setting time aside to help, their holiday spirit will grow, and they'll cherish the positive impact you made from giving them great memories.
Give Back to Wounded Warriors
When a person gets discharged from active duty, it's usually from fulfilling their quota and doing various good acts. However, some aren't so lucky and leave their time in the military with emotional and physical trauma.
One of the beautiful ways you can help is by supporting wounded warriors. You can find support funds and fundraisers for families of wounded warriors, such as those with traumatic brain injuries or psychological health conditions. Additionally, they receive top-quality rehabilitation to help further their recovery.
Dedicate Your Time to Knowing Them
Many military families don't have their spouses or partners home to celebrate holidays. Active military troops sometimes don't get the chance to return home, leaving their families without them to celebrate. So get in touch with some local military families that want to have some company during the season.
If you have children, bring them around their kids and get to know each other. Bring over a meal, some coffee, or even suggest movies everyone can watch together. It's an excellent way for them to feel appreciated.
Help Fulfill Their Holiday Gift Shopping
Providing those in need with practical gifts can help them in the long run. However, some military families struggle to find gifts. One of the positive ways to donate to military families is by helping them finish their holiday gift list.
Take the time to look over holiday gift lists from military families through online resources. You register through the website, and they'll provide you with the necessary gifts the family requested. From there, you can purchase the presents and send them off!
Support a Local Foundation
During the holidays, giving back is a great way to help others. You can find local foundations and drives to help military families get through the following year. Whether you donate money or physical goods, it feels like a good thing.
Just make sure you know if you are donating to the right cause. See if your local fundraiser or military charity supports the troops progressively and positively.
Doing your part by making military families feel loved is a great way to spend the holidays. Once you've done your part, keep doing it, and you'll make a huge impact.