Ways To Make Your Gifts More Meaningful
Ways To Make Your Gifts More Meaningful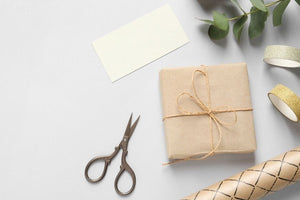 We give presents to show someone how we feel, but it doesn't always seem like enough. Don't give up! With a little more time and thought, you can find ways to make your gifts more meaningful and memorable.
Get Personal
We want to dazzle people with our gifts. Heck, we'd give out new cars to everyone if we could. But it's worth remembering that it's OK to be sentimental when it comes to presents. Focus on the recipient, and celebrate what you appreciate most about them. You might not find what you want in a catalog, so think along these lines:
Homemade cookies (or enchiladas, if that's more your style)
DIY efforts like candles, body scrubs, and jewelry
A special book with an inscription inside
A cookbook with a family recipe inside
A gift card or certificate from a small local business you both like
A basket of their favorite guilty pleasures
A puzzle made from a photo of the two of you
A video montage of memories or greetings
Customize the Card
There are people in this world who somehow manage to find the perfect greeting card for every occasion and recipient, as though it were written for them. Not you? Don't worry about it. Think of the card as a starting point, and customize it as much as you want. Decorate the envelope, add to the sentiment, doodle drawings, quote a song lyric—anything that makes the message more personal. If the card doesn't express the right sentiment, feel free to cross out "Happy Birthday" and write in "Happy 10th Anniversary of Meeting You at Camp."
Wrap It Up
Not confident in your wrapping skills? It won't matter if it looks a little sloppy, but wrapping your gift will show that you cared enough to try. There aren't too many ways to screw up gift wrap—as long as you haven't glued the box shut, you've been successful. If you're genuinely intimidated by wrapping paper, you can make anything festive by tying a red satin bow around it. If all else fails, pop it in a gift bag—they were invented just for people like you. One of the best ways to make your gifts more meaningful is to build up the surprise factor. Tearing off gift wrap is one of the great joys in life, so give the recipient the chance to feel like a kid again. Check out the new gift wrap options here at Culture Greetings.