Wedding Details That Often Get Overlooked
Wedding Details That Often Get Overlooked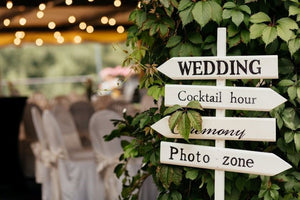 Planning a wedding is no small task, and there are a million things you must consider all at once. This can lead to as much stress and anxiety as excitement on the big day, and these swirling emotions make it easy to neglect certain aspects. Ensure your wedding day is perfect by accounting for all the wedding details that often get overlooked.
A Point of Contact
Communication between the staff and services you hire is pivotal. While you might assume that you'll be able to answer your phone or meet with the staff as needed, the reality is that you'll already be busy with a hundred other things on the big day. Instead, you'll want to entrust someone else as the first point of contact that can help the different services coordinate as needed. This will take lots of stress off your plate and ensure the wedding proceeds smoothly according to your plan.
Music and Video
You'd think this would be a priority for many, which is true. But what couples often neglect are the professional services needed to provide audiovisuals to a wedding. You can't just plug your phone into a speaker for an event of this size. Instead, you'll want a DJ service that will handle all the technical elements for you. Just be sure you make time to talk with the DJ so that they're clear on the plan and you're sure they have the experience necessary for the job.
Wedding Signage
Another wedding detail that often gets overlooked is providing signage throughout the wedding. These signs should help guide and indicate to your guests where they should go and sit. They can also direct them towards points of interest like the gift table or even restrooms. Having signs will prevent confusion and keep your wedding orderly as you move locations or shift events.
A Backup Plan
Many times, something as simple as the weather changing can foil even the best-laid wedding plans. If the weather or some other external factor hinders your wedding plans, be ready to account for them. For example, if you have an outdoor wedding and rain is in the forecast, set up canvas tents or some other form of shelter to keep you and your guests dry.