What to Write Inside a Birthday Card for Mom
What to Write Inside a Birthday Card for Mom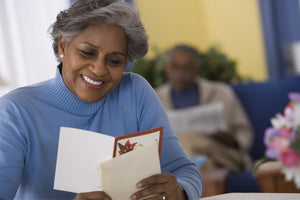 6 Birthday Wishes for Mom: Use these notes to write inside of mom's birthday card.  Odds are, a simple card is not enough to tell your mother everything you think of her. Feelings of love, gratitude, devotion, and joy merge during her birthday, making it hard to choose what to say. 
But while written words can never replace the warmth of a hug or the joy from hearing your voice, a strategically chosen card birthday card can steal a smile from her or even shed a tear of joy. 
To give you an idea of what to write on your beloved mother's birthday card, here are six birthday wishes that range from the warm to the silly—all tailor-made to bring happiness to her life. 
01. I will never know how much you sacrificed for me, but I will ensure you always know how much I love you. Happy birthday, mom. 
Our journey in life begins with the sacrifice of our mothers as they carry us in their wombs, and it only grows from there. 
This warm and heartfelt birthday wish acknowledges that reality and promises to give her endless love in return. And sometimes, that is what a mother wants the most. 
02. God blessed me when he allowed you to be my guiding light in life. All I pray for is that you receive ten times what you have given me. Happy birthday. 
Having someone who loves you, encourages you, and supports you unconditionally is nothing short of a blessing—a miracle to appreciate and love. 
Odds are, your mother is that miracle. Let her know that you keep her in your prayers so that she can be as happy as she has made you. 
03. You gifted me life. I have to admit it—I'm struggling to come up with something better than that, so this card will have to do. 
To a mom with a sense of humor, one of the best gifts you can give her is a card with a hilarious message highlighting one universal truth—there is simply no upstaging her in the gift department. 
04. Once upon a time, on a day like today, the world welcomed the most extraordinary woman I know. Since then, everything has been brighter and better—so let's celebrate you to your heart's content! Happy birthday, mom. 
For many people, their mom is the most extraordinary woman they know. And you know what? They are all right—every loved mom is the world's greatest woman for their children. 
But just like that, for every loving mom, her kids' opinions are the most valuable words. Conclusion? Let her know how much she means to you. 
05. Today is all about your favorite things—favorite food, drink, cake, hobby, movie, and child. Here I am, so happy birthday! 
This one is meant for those with siblings—rub in their faces that you are mom's favorite with this card. Just keep in mind that we can't guarantee she will agree with you. 
06. During your first birthdays, you grow older and wiser. But after being my mom for so long, you have won the right to grow younger and wilder! 
Age is only a number, and youth—much like groove—is in the heart. After years of responsibilities and putting everyone before her, mom earned the right to have a little bit of crazy fun, and this card reminds her that the best years are yet to come.