Why Gift Cards Make Great Gifts
Why Gift Cards Make Great Gifts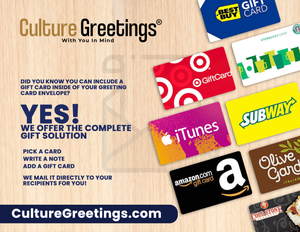 The saying "good things come in small packages" is certainly true when it comes to gift cards. While they may be small in size, gift cards continue to surge in popularity because of the convenience they provide. According to a recent survey, 41 percent of respondents said they'd like to receive a gift card as a birthday or holiday gift. Not sure what to get your uncle who has everything? Can't think of what to give someone for their upcoming birthday? Well, gift cards eliminate the guesswork for gift-givers and allow recipients to get exactly what they want. 
We Make it Easy
We make it easy for you to include a real-gift card inside of your greeting card purchase.  After personalizing the greeting card for your recipient, you will see the option to select a gift card to include inside of the card.  We have many options, from Starbucks, to iTunes, to Amazon, to Target and more. 
A Gift With Plenty of Possibilities
Here are a few reasons why gift cards are great gifts to give and receive.
You can make them personal.

 

Gift cards don't have to be impersonal. Since you are already personalizing a greeting card, simply request that we place a gift card inside as well.
Easy to mail.

 

Sending gifts to long-distance loved ones can be stressful Gift cards are easy to send by mail and we send them to the intended recipient for you inside of the greeting cards.
A hit with children and teens.

 

Kids can be pretty picky about colors, brands, sizes and more, so a gift card can help them choose exactly what they want. Not only do gift cards offer shopping enjoyment, but they also provide a learning experience about checking prices and spending money wisely.
How to Include a Gift Card Using Our Platform