Creative Ways To Celebrate Your Mother's Birthday
Creative Ways To Celebrate Your Mother's Birthday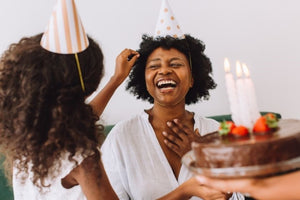 You wouldn't be alive without your mother, so you must show your appreciation on the day she was born. If your mother's birthday is coming up, do something extra special for her this year. Giving her a birthday gift that she'll never forget is a great start, but including a thoughtful celebration will make her feel even more loved. If you've been searching for fun ways to honor your mother on her big day, try one of these creative ways to celebrate your mother's birthday.
Make a Special Video for Her
In today's digital age, making a video is easier than ever. To surprise your mom for her birthday, why not compile a special video of her memories? Also, you can get all your family members and loved ones to wish her a happy birthday in the video. She'll absolutely love seeing the personalized messages and happy memories. She can also rewatch it whenever she wants.
Cook for Her
Your mother cooked and provided for you every day during the first two decades of your life, so turning the tables on her makes a great surprise. Make sure that you cook her favorite meal and pay extra attention while preparing it. To add an extra touch, you can serve her breakfast in bed. Recruit your father to help in the kitchen as your personal sous-chef.
Surprise Her With a Spa Day
Has your mom been stressed out lately? Then the perfect birthday gift is a trip to a luxurious spa. She can get a relaxing massage, skin care treatments, and more. She'll love that you cared enough to treat her to such a special pampering. If your mother likes to stay at home for her self-care routine, figuring out what to get her for her birthday will be a breeze: gift mom an at-home spa day with luxurious lotions and bath soaps.
Try Your Hand at Poetry
Mothers love personal gifts where you put in a lot of effort. Even if you've never written a poem before, give it a try for your mom! Remember, it doesn't have to be too fancy, but put lots of effort into expressing yourself and making it rhyme. Your mom will know that you love her if you take the time to write out a complete poem!
Fly in Her Parents for a Surprise Party
Does your mother not get the chance to see her parents very often? Did the pandemic ruin your plans to get together? Then try flying them in for her birthday! Don't stop there, though; you can take things even further by setting up a surprise party. Your mom will go nuts when she realizes that her parents came out to share her special day with her.
With so many creative ways to celebrate your mother's birthday, you may have a hard time choosing just one. Feel free to mix and match different activities and gifts to make her special day the best day ever. Oh .... and don't forget the greeting cards.