Together Time: Hobbies You Can Enjoy as a Family
Together Time: Hobbies You Can Enjoy as a Family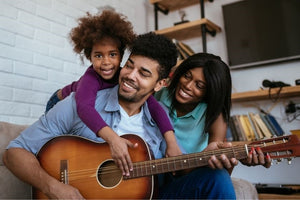 Between work, school, and activities, we have a lot to fill up our schedules, so family bonding time can end up on the back burner. But you don't have to resign yourself to only seeing your spouse and kids for two seconds as they wolf down some food at the dinner table before dashing off to the next thing. By finding hobbies you can enjoy as a family, you'll have the perfect excuse to spend time together.
Gardening
Keeping a garden running is a lot of work for one person. But when you have an entire family working together—well, it's still a lot of work, but you'll at least enjoy yourself while you're doing it. A family garden will enrich your children's understanding of nature, improve the look of your yard, and potentially reduce your grocery bill if you have a vegetable or herb garden, all while making memories.
Music
The Isley Brothers, The Staple Singers, The Jackson 5—good things happen to music when you do it with your family. There are plenty of ways to turn music into a hobby you can enjoy as a family. If your kid is already learning an instrument, you can learn it with them to help them stay motivated to practice. O, if you're not trying to be the next Five Stairsteps, you can invest in a karaoke machine and jam out on a Friday night.
Volunteering
Volunteering often ends up falling by the wayside as something we only do when we absolutely have to, whether it's a requirement for a class or part of a work function. But volunteering can be a great way to spend time with the fam while teaching kids empathy and the importance of giving back. It can be fun too! Here are a few volunteering ideas that are perfect for families:
Soup kitchens
Food pantries
Feed My Starving Children
Habitat for Humanity
Toys for Tots or Operation Christmas Child
Animal shelters
Educational facilities
Historical reenactment attractions
Learning a Language
We all know learning a language comes with a lot of personal, educational, and professional benefits. But it's not always easy to pick up a language when you don't have anyone to practice with. If you try to learn a language as a family, you'll automatically have practice partners. Go through an online course or app together, and when everyone gets it down, you can take a trip to a country that speaks the language.
Family time is everything. By picking up a hobby together, your kids will learn new skills, broaden their horizons, and make valuable memories everyone can hold on to.