Essential People To Include in Your Wedding Ceremony
Essential People To Include in Your Wedding Ceremony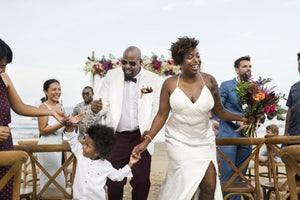 Weddings are one-of-a-kind opportunities for you to bring all your friends and family together to celebrate. All the festivities encourage people to connect and have fun. However, you must plan the entire wedding before the joyous days unfold, including the ceremony. The wedding itself involves numerous people, so you should find ways to honor each person who made a difference in you and your partner's lives. Here are the essential people to include in your wedding ceremony.
The Bridal Party
The most important selection of people at your wedding is the bridal party. This group will include special people whom you want to honor above all others. They will stand next to you at the altar, give speeches about your relationship, and dine next to you at the reception. Make sure to include your closest friends and family members. Among the bridal party, you and your partner must select one person to be your maid of honor and best man. These people will stand closest to you and play an instrumental part in the wedding's events.
Family Members
While you and your partner's siblings or parents may be in the bridal party, you will likely have a long list of family members attending. You have an opportunity to honor them during the reception the night before the wedding, but during the ceremony, it's customary to honor parents first. When everyone arrives at the venue, you'll have your grandparents proceed down the aisle first, followed by your parents.
A cute, traditional way to involve any young family members is through the roles of flower child and ring bearer. The flower child will throw flower petals, glitter, or even confetti; the ring bearer will carry the rings down the aisle to the couple. If you decide to include a ring bearer, you should remember to use a ring bearer pillow, so the child doesn't lose the rings.
Close Friends
Your bridal party will include your closest friends, but you may still have others attending the ceremony who aren't in that exclusive group. This means your other friends won't have an official role to play. But that doesn't mean they are on the sidelines for the ceremony. You should talk with your pastor or officiant and find unique ways to bring in other important people. You can have one person recite a Bible passage about love; another friend can recite a poem or prayer.
Knowing the essential people to include in your wedding ceremony can help you avoid awkward conversations and smooth over complicated relationships. Wedding planning can be stressful, but with the right information in your back pocket, you can breeze through one of the happiest days of your life!