Get hitched without a hitch!
Get hitched without a hitch!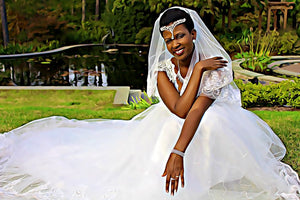 (BPT) - Your wedding is one of the most memorable days of your life. To pull off the big day of your dreams, it is important to have a plan in place.
The average engagement in the United States lasts 16 months — this may seem like a lot of time, but with so many details to account for, it will fly by. Weddings have many moving parts, so couples need to prioritize and prepare for the unexpected in case their big day doesn't go exactly as they'd hoped.
To ensure that your special day goes as smoothly as possible, keep these tips in mind:
Vet your vendors
Couples have to rely on many different vendors — from caterers and transportation companies to florists and venues. Depending on so many different people can leave room for error — just ask the couple whose DJ couldn't make the reception because he was in jail.
To protect your investment, make sure trust is established between you and your vendors. Start by thoroughly researching potential vendors, including talking to past customers, to ensure they are reputable. Then follow up with them throughout the planning process to make sure you are still on the same page.
Don't lose out on your deposits
According to the Brides American Wedding Study, the average cost of a wedding in 2018 was more than $44,000. Clearly, a wedding is a significant financial investment. To protect against potential losses, couples should use a credit card instead of a check or debit card whenever possible for deposits. In the event something happens, a credit card payment is easier to recoup than cash.
Say "I do" to expert help
Planning a wedding is no easy feat — it is quite literally a full-time job. Couples can make the process a lot easier by hiring a wedding planner to make sure everything is covered. These experts will use their experience and many talents — like communication and planning skills, negotiation and problem-solving — to help your wedding dreams become a reality. And don't forget to check out our African American greeting cards for invitations, save the date notices and thank you cards.  
Dealing with destinations
Destination weddings are definitely on trend as couples seek Instagrammable, unique locations around the world for their special day. If you're taking this route, factor additional money into the budget to cover unforeseen expenses. Consider hiring a local wedding planner who will be familiar with reliable venues and vendors in the area. Additionally, many destination weddings take place outdoors, and unpredictable weather could roll in at any time. It is important to have a back-up plan when it comes to venues, photographers or any vendor that could face a problem and be unable to provide their contracted services.
Invest in peace of mind
Because you can't guarantee that everything will go right on your big day, wedding insurance solution providers like WedSafe can help protect your investment with wedding insurance. Investing in wedding insurance, on average, costs less than half of your three-tiered wedding cake. Wedding insurance generally comes in two forms:
Wedding Cancellation Insurance. This coverage offers protection if a couple needs to cancel or reschedule their wedding in the event of issues like severe weather, a sudden illness or venue closure. In 2018, 43 percent of WedSafe's claims came from the need to cancel or postpone a wedding. For example, the company saw a surge in claims in the Carolinas when Hurricane Florence hit, forcing cancellations for weeks following the storm as venues and vendors dealt with the impact to their business.
Wedding Liability Insurance. This type of coverage, which is now required by many venues, helps protect an insured if they are held liable for property damage or bodily injury. It can also offer host liquor liability to protect against alcohol-related accidents. And these things happen more often than you'd think. Twenty-three percent of WedSafe claims in 2018 stemmed from venue/property damage while 14 percent related to injury or accident.
This information is provided for general informational purposes only and is not intended to provide individualized business, insurance or legal advice. All descriptions, summaries or highlights of coverage are for general informational purposes only and do not amend, alter or modify the actual terms or conditions of any insurance policy. Coverage is governed only by the terms and conditions of the relevant policy.