Hope and Chicken Soup: Things To Do To Help Sick Friends
Hope and Chicken Soup: Things To Do To Help Sick Friends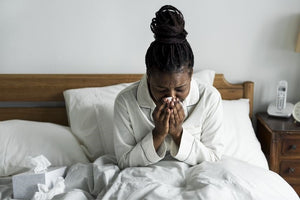 To say that there are many awful things going on in the world right would be a cliché. On top of the pandemic, we now also have the usual rounds of seasonal illnesses and winter blues to contend with. But as many awful things as people have experienced this year, they have found just as many opportunities to make one another feel loved. By finding things to do to help sick friends and loved ones during their illnesses, we can all bring a little bit of light and love back into our lives.
Communicate
Often the hardest part of illness isn't the physical symptoms but the isolation that comes with them. This isolation can exasperate those of us who experience seasonal affective disorders or other mental illnesses. Sometimes, one of the most meaningful things you can do is intentionally send a text or call your friend every single day. This gives them something to look forward to and provides a connection to other people. You can sprinkle in a few extra loving communications as well, such as a video message from your friend group or (hint, hint) a personalized greeting card.
Care Package
Along the lines of personal communication, you can help fulfill some real needs by putting together a "care package" with your friends. This doesn't have to be extravagant. It can simply be a basket of a few illness essentials such as good tissues, vitamins, tea, and bath salts. You can also include some personal things that you know they'd like, such as their favorite snacks, a movie, or a handwritten note. This will make their day and make it a little easier for them to get through their illness.
Practical Help
When you're sick, the thought of all the practical things that you have to do can pile stress on top of all the other emotions you might be feeling. That makes it harder to rest and, as a result, harder to heal. As part of your regular communications, ask your friend about practical things they need to do around the house. You can even do this without forcing them to break quarantine. You can pick up groceries and bring them to their front step. You can help them tackle some yard work or help them work on their car. If you feel safe doing so, you can even help wash the car and clean out the interior.
The year's been hard—that's a fact. But don't use that as a reason to not reach out and bring a little light into other people's lives. Doing things to help a sick friend may seem small in the wake of all the awful things that have happened this year. But for your friend, these small acts can make all the difference in the world. And shouldn't we all try to put a little hope back into this world?