How To Plan a Memorable Graduation Party
How To Plan a Memorable Graduation Party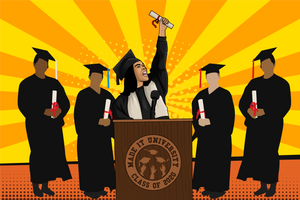 Nearly 4 million young adults will graduate high school this year. If you are the parent or loved one of a student who is about to graduate, finding a way to memorialize this special event is important. One of the best ways to show a graduate how proud you are of their accomplishments is by throwing them a party. Being able to get together with friends and family members to celebrate this momentous occasion can be a lot of fun.
Trying to throw a graduation party without a plan and a high level of organization can be disastrous. Rather than leaving the outcome of this party to chance, you need to create a detailed plan of action. Here are some things to consider when trying to plan a memorable graduation party.
Select a Location Early On
One of the most important things you have to decide when planning a graduation party is where you will have it. If you plan on renting a venue to host this party in, then you need to book it early on. Waiting until the last minute to find and book a graduation party venue can present serious problems. In most cases, the closer you get to graduation, the fewer venues there will be available.
Before renting a venue, you need to consider how many people will attend this event. Getting a venue that is a bit bigger than you actually need will allow you to accommodate unexpected party guests with ease. You also need to take a tour of each venue to see what it has to offer and where it is located. The information from these tours can help you narrow down the list of available venues in relatively short order.
Choosing the Right Graduation Party Décor
Once you have chosen and booked a venue, you need to shift your focus to what type of décor you want to use. While there are a number of possible color combinations you can use for this décor, you need to make things easy on yourself by going with the school colors of the graduate. School colors are usually pretty ordinary, which means you should have no problem finding decorations to use.
As you start to decorate the venue, you need to set aside an area just for presents. Doing this allows you to make dropping a gift off easy for guests.
Focus On Capturing Memories At The Party
The main objective you should have when planning a graduation party is to make lasting memories. Freezing the memories from this party in time is simple when using the power of photography. Instead of trying to run around and take pictures on your own, you should hire a professional photographer. Doing this allows you to get the visually appealing pictures you want without spending your entire night behind the camera.
Are you looking for gifts or cards for the graduate in your life? If so, check out the selection of items Culture Greetings has to offer.