Meaningful Gift Ideas for Your Godchild's Baptism
Meaningful Gift Ideas for Your Godchild's Baptism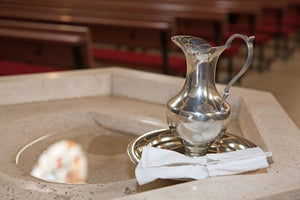 Did you cry when you were asked to be a godparent? It's understandable. There aren't many honors greater than being entrusted with a child's spiritual life, so congratulations! As you prepare, you're probably trying to think of a way to mark the occasion. Maybe one of these meaningful gift ideas for your godchild's baptism will inspire you.
An Engraved Picture Frame
Who knows—as this child grows, they may only experience photo memories on a cell phone. But you can commemorate this milestone with a beautiful frame engraved with their name. While you might be tempted to choose a traditional sterling silver frame, it can be even more thoughtful to keep it all-occasion so they can switch out photos at different stages of life. It's nice to think that something from you might always be a part of their home. Maybe each year, you can print out a photo you think they'll love and one day put them all in an album.
A Custom Quilt
Never quilted before? There's no better reason to give it a try. It's a relatively small project, and any imperfections will be part of its charm. You can also buy an all-in-one kit that simplifies the process. It'll feel rewarding to customize it with the baby's name, the date of the baptism, an embroidered Bible verse, or your own sweet sentiment. Maybe it will end up being their favorite thing to hold at night. And maybe one day, they'll pass it down to their kids. With homemade care, though, they'll know it was from the heart.
A Treasury of Books
Some of the most meaningful gift ideas for your godchild's baptism are things they can use throughout the years. Start them off with their own personal library to cherish as they get older. You'll actually enjoy curating a collection of books that will help forge a connection between you and this little one. Don't overthink it; you can choose anything you want to share. Some possibilities:
A children's Bible
A collection of youth scriptures and prayers
Your favorite book as a child
A blank journal for their future reflections, with a message from you on the first page
A philosophical exploration of the big questions in life
The book you're drawn to reread over and over again
An illustrated coffee table book that celebrates something you think is miraculous
You're probably sensing a theme. A christening gift doesn't have to be extravagant or elaborate. It can be a humble offering that symbolizes the connection between the two of you. It's ultimately just a gesture to mark the beginning of what will surely be a beautiful friendship.