Why You Should Rent a Party Bus for Your Wedding
Why You Should Rent a Party Bus for Your Wedding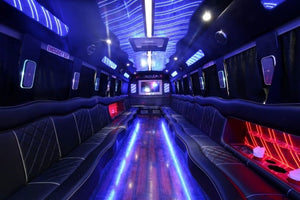 You want your wedding to be an extravaganza. Elevate your mode of transportation with a party bus that seats all your friends and family. The reasons why you should rent a party bus for your wedding include customizing your experience and making lasting memories. Find out what a party bus can do to make your wedding unique.
Travel Together
A party bus can seat between 20 and 40 people, making it ideal for your entire wedding party. Everyone can arrive at the wedding at the same time if you keep them on the bus. Further, you can host the after-party on your bus as well.
Travel in Style
Most people who choose a limousine choose a stretch limo—or at best a Hummer limo. But with a party bus, you'll have a truly unique wedding vehicle. Everyone will have their eyes on you on your special day as your make your way around town. Further, a party bus looks great in photos and helps you create excellent memories.
Bring Booze
Whether the service supplies the alcohol or you bring it yourself, most party buses allow you to eat and drink. You can get the party started early or start popping bottles as soon as you get back to the bus after tying the knot.
Enjoy Exceptional Service
One of the best things about renting a limo is enjoying exceptional customer service. It should begin from the moment you book your ride. One of the most important questions to ask the private car company you choose to work with is whether it has licenses drivers and vehicles. Ensure you book a reputable service.
Customize Your Experience
One of the best things about party buses is that they're customizable. Ask your car company about their services and options. Perhaps you can find something to tie into the theme of your wedding.
It's not hard to find reasons why you should rent a party bus for your wedding. If you have room in your budget for a limo, you might find ways to include a party bus. Call different services to get quotes and start comparing today.